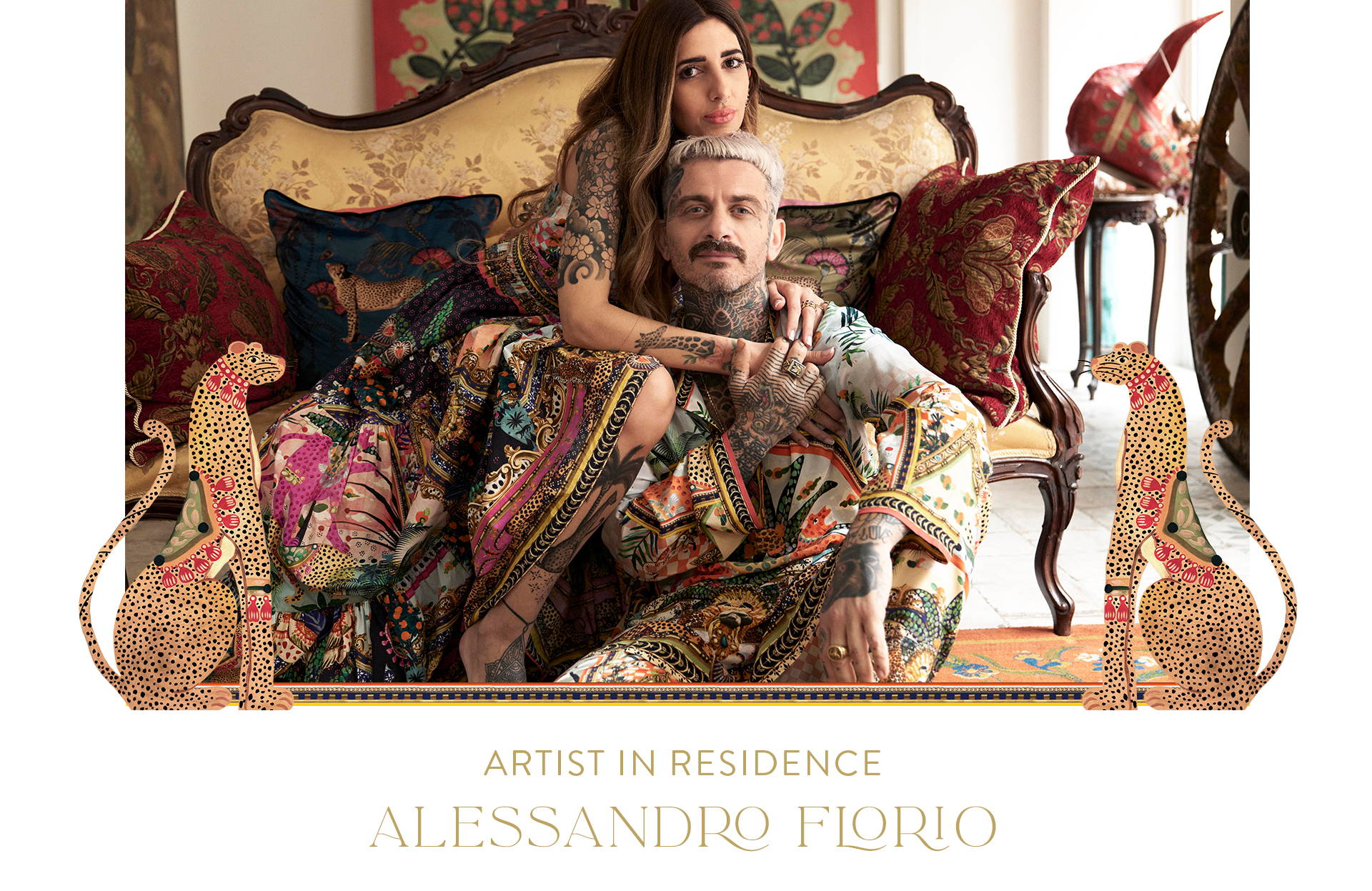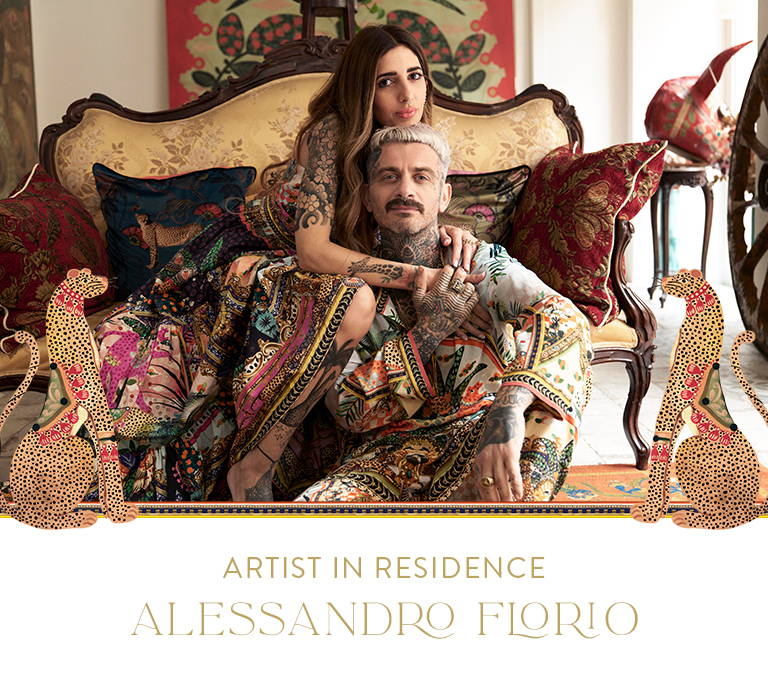 Once in a lifetime, you stumble across something that makes you grow and feel things in a whole new way. For me, that was discovering Alessandro Florio, a painter and tattoo artist born, raised, and living in Sicily.


It was August of 2022 – a time where the world was reopening, and I was spreading my creative wings once more. I was travelling through Italy in search of inspiration and had followed by heart south to the island of Sicily. Little did I know that this visit would lead to a serendipitous encounter with Alessandro, the artist behind our Amore Mio Artist in Residence collaboration.


In the charismatic streets of Taormina, I found myself drawn to an art gallery. Much to my disappointment, it had closed for a few hours, however a friendly and eccentric tattooed fellow stood a few metres away, and he told me he could give me the owner's number so I could try again later. I followed him down into his studio expecting to be handed the number and leave – however I was immediately captivated by his vibrant artworks, which wrapped the walls and had such presence, substance, and beauty. Time stood still and I stayed for hours. The artist, Alessandro Florio, and I spent this time talking about his work, and it was here we discovered that we were both on a journey of artistry and evolving our mediums.
A proud Sicilian who started his artistic journey in tattooing, each of Alessandro's artworks is a tapestry woven with motifs of his Sicilian heritage: a vibrant and rich source of inspiration that courses through his veins. Each stroke of his brush is imbued with a reverence for his roots, creating a profound connection between his creations and his identity.


With a keen eye for colour and an innate talent for translating his heritage and emotions onto canvas, Alessandro's paintings transport viewers into a realm of enchantment and wonder. His journey from a tattooist and to a painter is a testament to the power of art and how it can transcend time, evolving in parallel to our own life's experiences.


It was apparent to me that the synergy between Alessandro's tattooing craft and his painting emerged from this deep-seated need for self-expression. This creative process is near identical to my own – yearning for travel and expressing both my artistic and emotional journeys through printed silk. This felt magnetic to me, and from there a collaboration was born.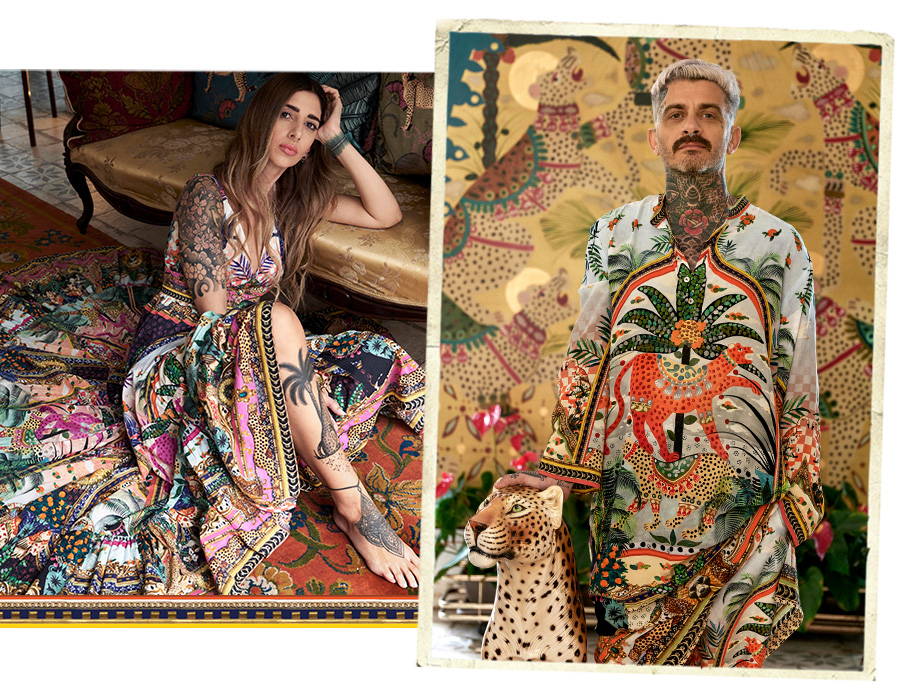 I'm a big believer of serendipity and it was only the day prior to meeting Alessandro that, unbeknownst to me, I was in his wife's store swooning over her handbag collection. It felt like I had bumped into an old friend that I hadn't seen in years. She recommended a bar close by, which – as it turns out – was decked head to toe in Alessandro's work. I felt like a child experiencing magic for the first time, we stayed for hours playing in the presence of his work. Little did I know the universe was organically ushering me closer and closer towards him.


From the outset, our partnership has been just that: organic. It also came at a time where I was (and still very much am) fascinated by Sicilian art, bursting with mosaic scenes of leopards and nature, and how that formed a contrast to the renaissance art on the mainland. Again, another tap on the shoulder from the universe.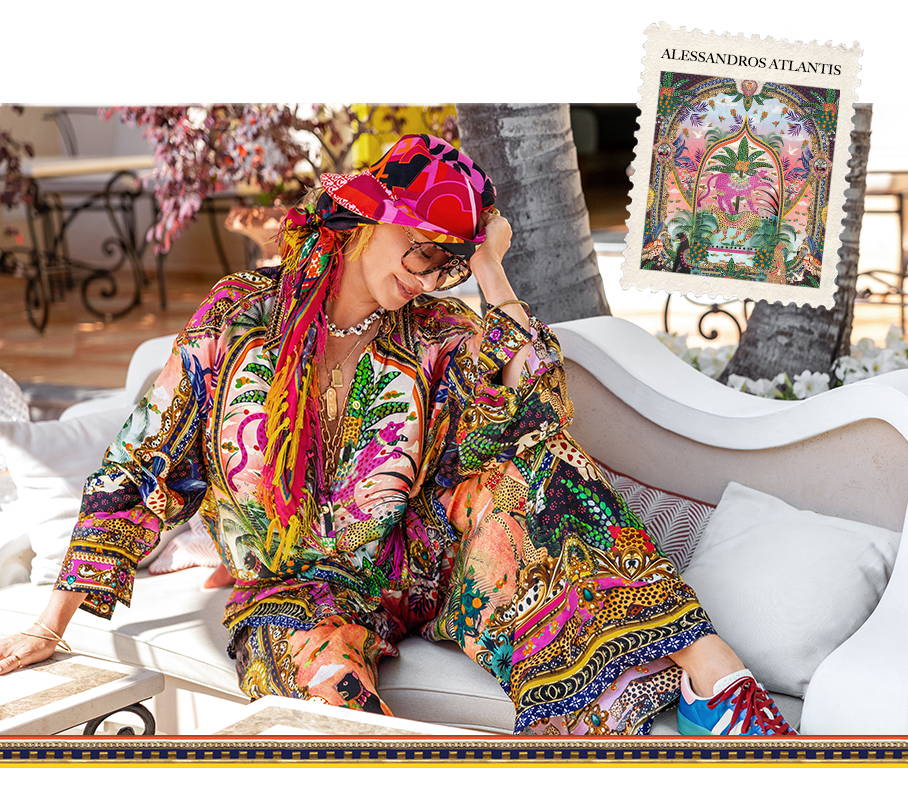 We've created a print together which honours our meeting and his heritage: 'Alessandro's Atlantis'. This has been a collaboration that has been built on mutual love and respect for one another's craft, and a commitment to our common devotion to print, colour and storytelling. We poured over his archive artworks and sketches, pulling together elements that we would feature in our story. We experimented with form, colour and scale – until we landed on a print that we could call our own. In June, we shot our collaboration pieces in his studio. It was a full circle moment, sealed with a serendipitous Sicilian kiss.

Our Amore Mio Artist in Residence collaboration print is now available for purchase. Each one of these pieces is wearable art, designed to transport every corner of you to a place of wonder and enchantment.