Twice a year, Camilla Franks heads off on a new global adventure to seek out inspiration for her next collection, immersing herself completely in each new place. This year, the artist found her muse in the storied halls of Italy's most coveted hotels, and a partnership between two iconic brands was born.
Join us as we journey from the endless Amalfi coastline through the hillsides of Florence and Tuscany to the grandiose artistry of central Milan. Our journey begins high on a cliff overlooking the Amalfi Coast, at the founding grounds of summer respite and romance, the Hotel Santa Caterina.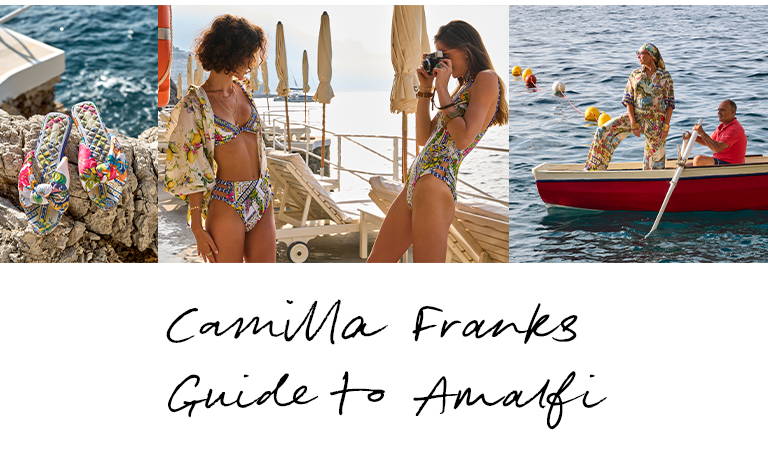 Each summer, a pilgrimage from Naples to the Amalfi coast unfolds. Time and time again, my heart has been pulled towards Hotel Santa Caterina. Nested on a steep cliff side, Santa Caterina often feels like a patchwork of family pride and coastal charm steeped in seductive Italian luxury. Opened in 1904 by the Gambardellas family with just six rooms – the hotel has continued to expand with further generations perfecting their unmistakable heritage.
Set against the all-embracing views over the hypnotic blues of the Tyrrhenian sea - each element of the hotel is bound together by oversized Sfusato lemon trees and bold bougainvilleas that debut as the season beckons in travellers once more.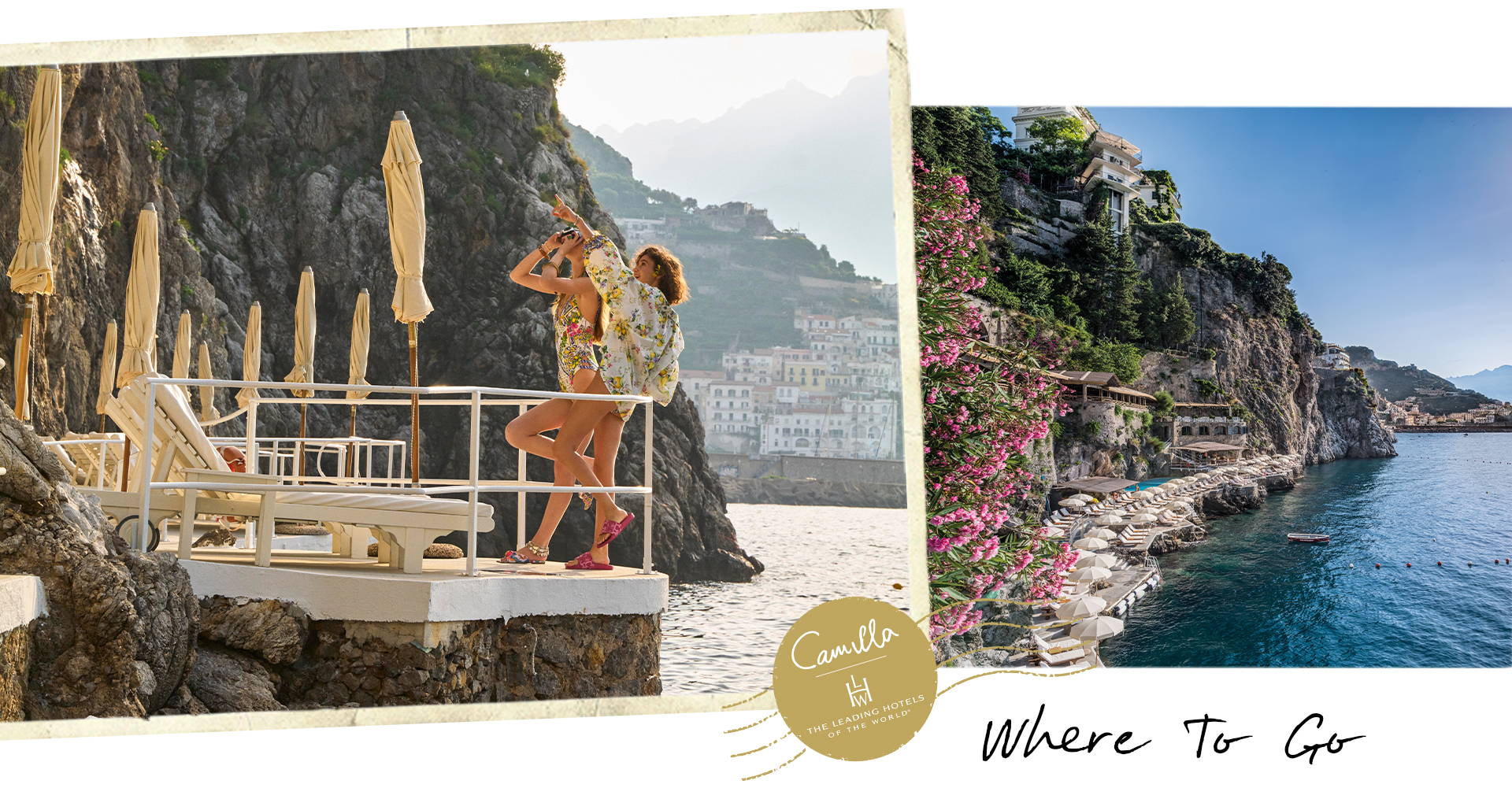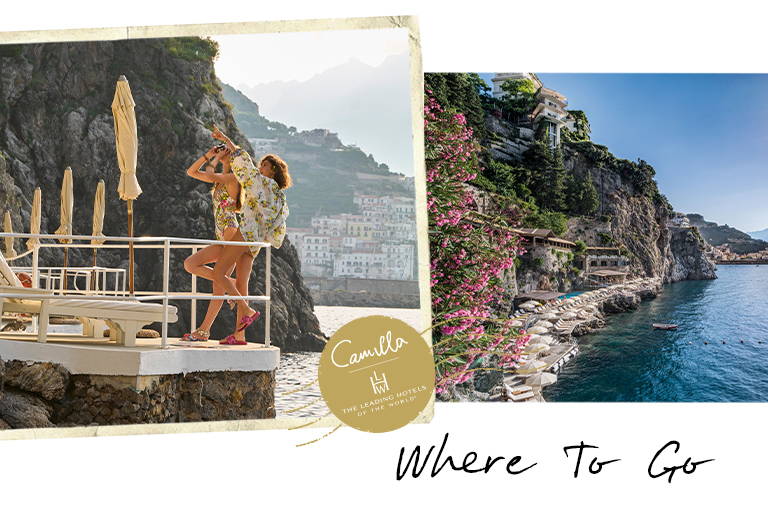 Once you arrive, you won't want to leave – and with good reason.
The pool will make you feel like you're walking into a Slim Aarons scene. Once you've finally gotten over the view (which you never fully will), you'll be ushered to your sun lounger by what feels like an old friend with towels and your favourite drink in tow. Position yourself here for the day and beyond, I won't judge. However, if you wish to explore ­– you can walk or take the shutter up to the hidden treasure that is Ravello. A charming medieval village with artisan stores, terraced gardens and Moorish towers. For something a little more rock and roll, head to Capri…just because you can. The pool area boys will help book you a boat and recommend a spot for lunch. You'll be back in time for dinner.


Towns: Praiano and Ravello
Beach Clubs: One Fire Beach and Il Pirata
Drinks: Bar Del Sole
Lounge Bar: Vivaro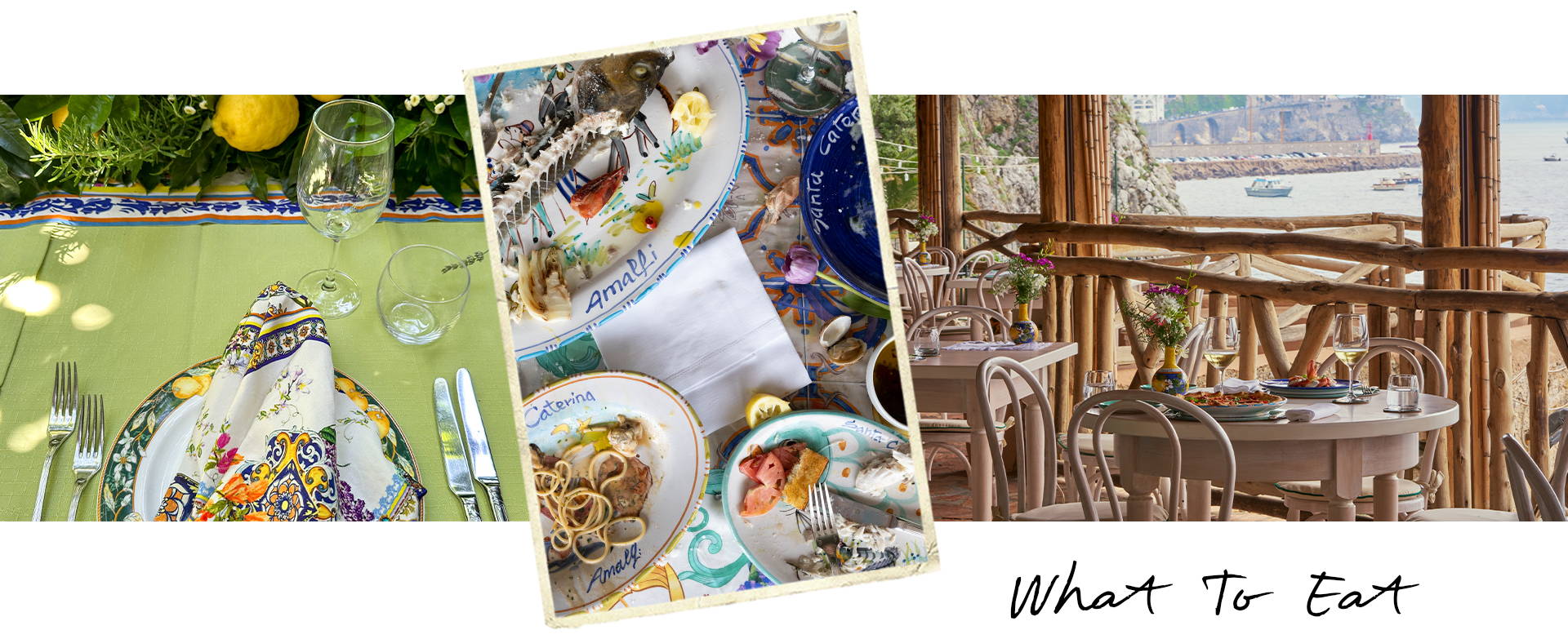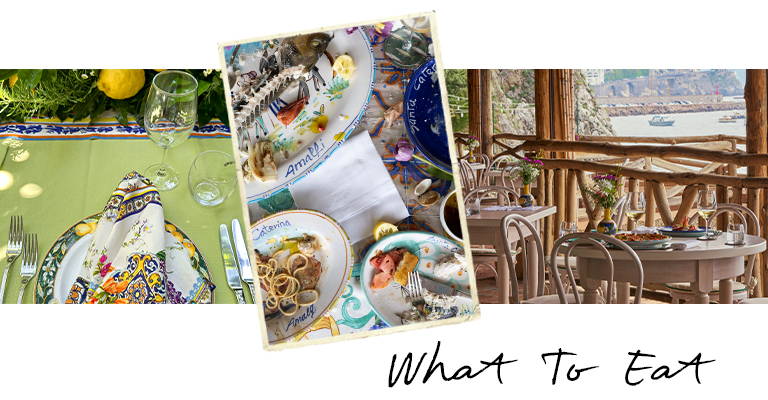 Hotel Santa Caterina combines my two culinary loves; Italian and seafood. Nothing brings my soul greater joy than Italian seafood. It's part of who I am in this lifetime and every one after that.
At Hotel Santa Caterina, I opt for the Al Mar restaurant. It's nestled just above the pool area that serves the Italian classics with a luxurious twist and a homely down-to-earth service. I'll always opt for a whole salt-baked fish which – much to the surprise of the staff (and myself) – I will crack open and de-bone personally. Always served alongside is spaghetti vongole, seafood linguine, caprese salad, and enough olive oil and lemon juice to sink a ship. It's a performance, after all.
In the early evenings, I love to wander a few moments up the road to Ravello. It feels like a world away, but here I'll enjoy an aperitif before following my tummy one of the many restaurants tucked in behind the main square.


Seafood: Taverna degli Apostoli
Pizza: Hostaria Acquolina
Gelato: Mago Del Gelo
Pastries and Desserts: Pasticceria Pansa Amalfi
Restaurant: Al Mar Restaurant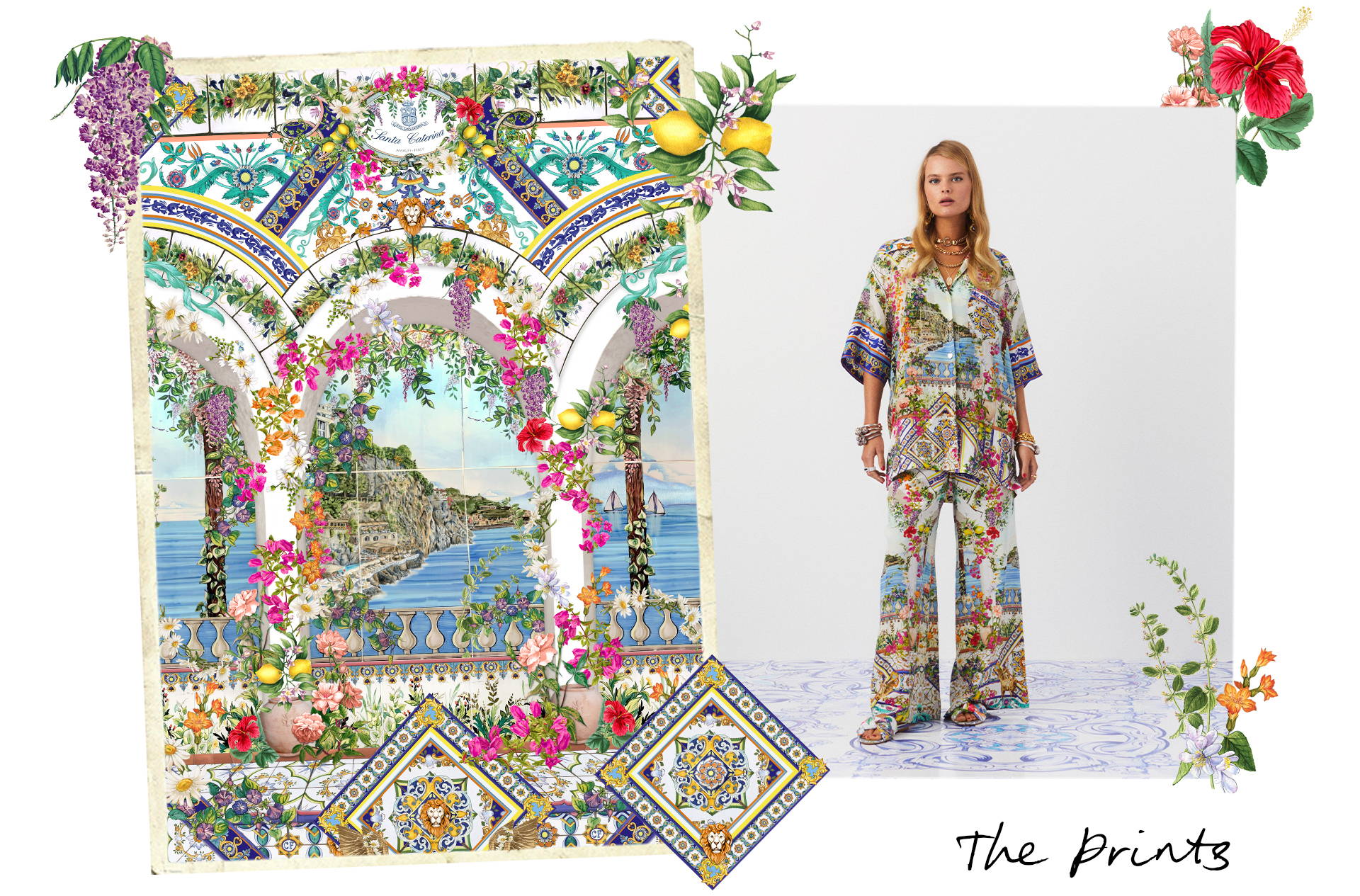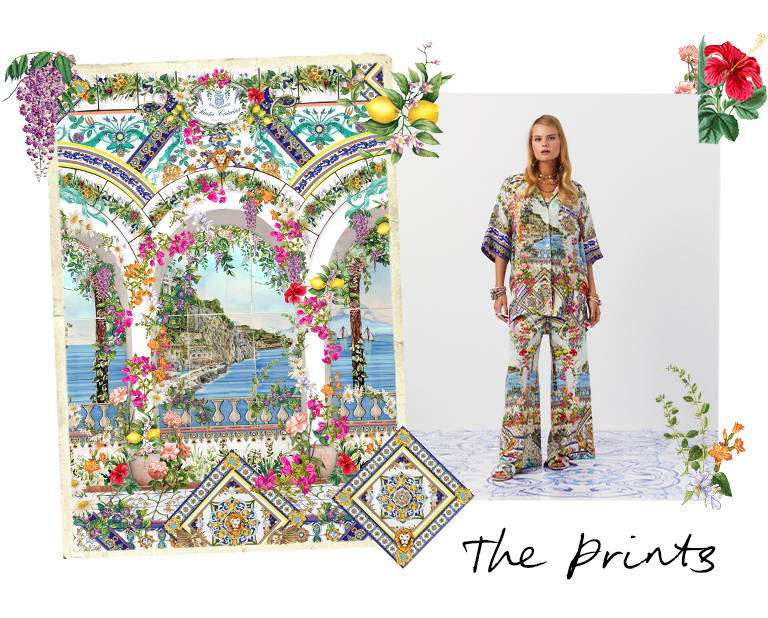 Hotel Santa Caterina is the birthplace of my AMALFI AMORE print, which features in the Amore Mio collection.
This print is a handpainted vista of moments from my stay in June of 2021, reimagined as one expansive scene. It encompasses the soul of this cliffside marvel and the archetypal elements the Gambardellas family have ripened for over a century: striking handpainted tiled murals, wisteria and hibiscus blooms in the hotel garden, the lemon trees that flank the path to the pool, orange and pink bougainvillias.
I wanted to capture that essence of an endless summer and the understated spaciousness that this special place has to offer. The romantic art deco build and whitewashed interior, citrus groves, family antiques, frescos, majolica floors, marble columns and arches that tumble into the panoramic view of the Amalfi coastline – our handpainted version of which features at the centre of this print.
This print is my ode to the founding grounds of summer romance and respite. It will transport your senses: you can inhale the scent of fresh lemons, feel the sea breeze, the warmth of the sun, and you'll taste the sea salt on your lips.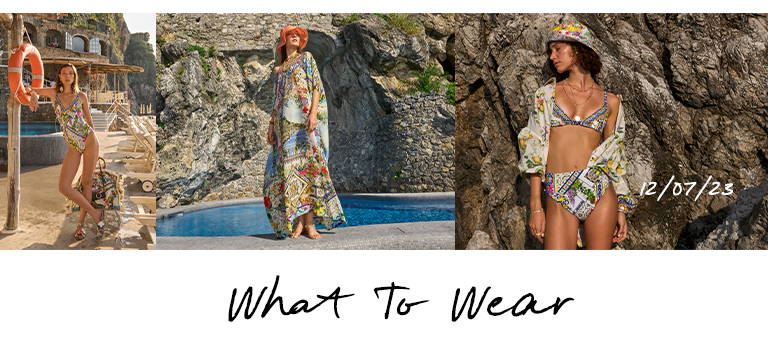 Hotel Santa Caterina calls for ensembles that allow you to swan down from breakfast to the pool and then up again for your lunch reservation. Take it easy, but add a healthy dash of luxury. You're on holiday, after all.