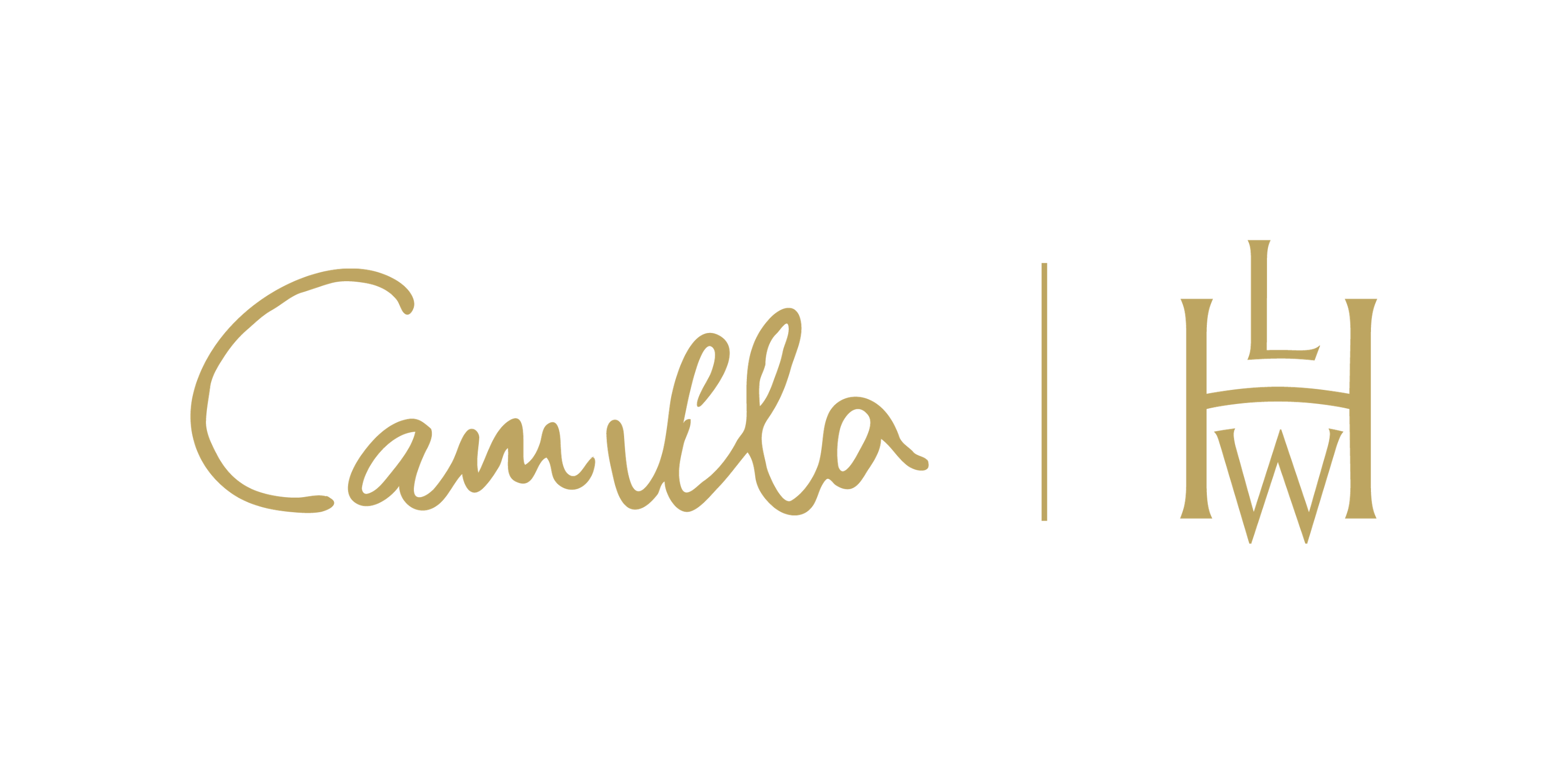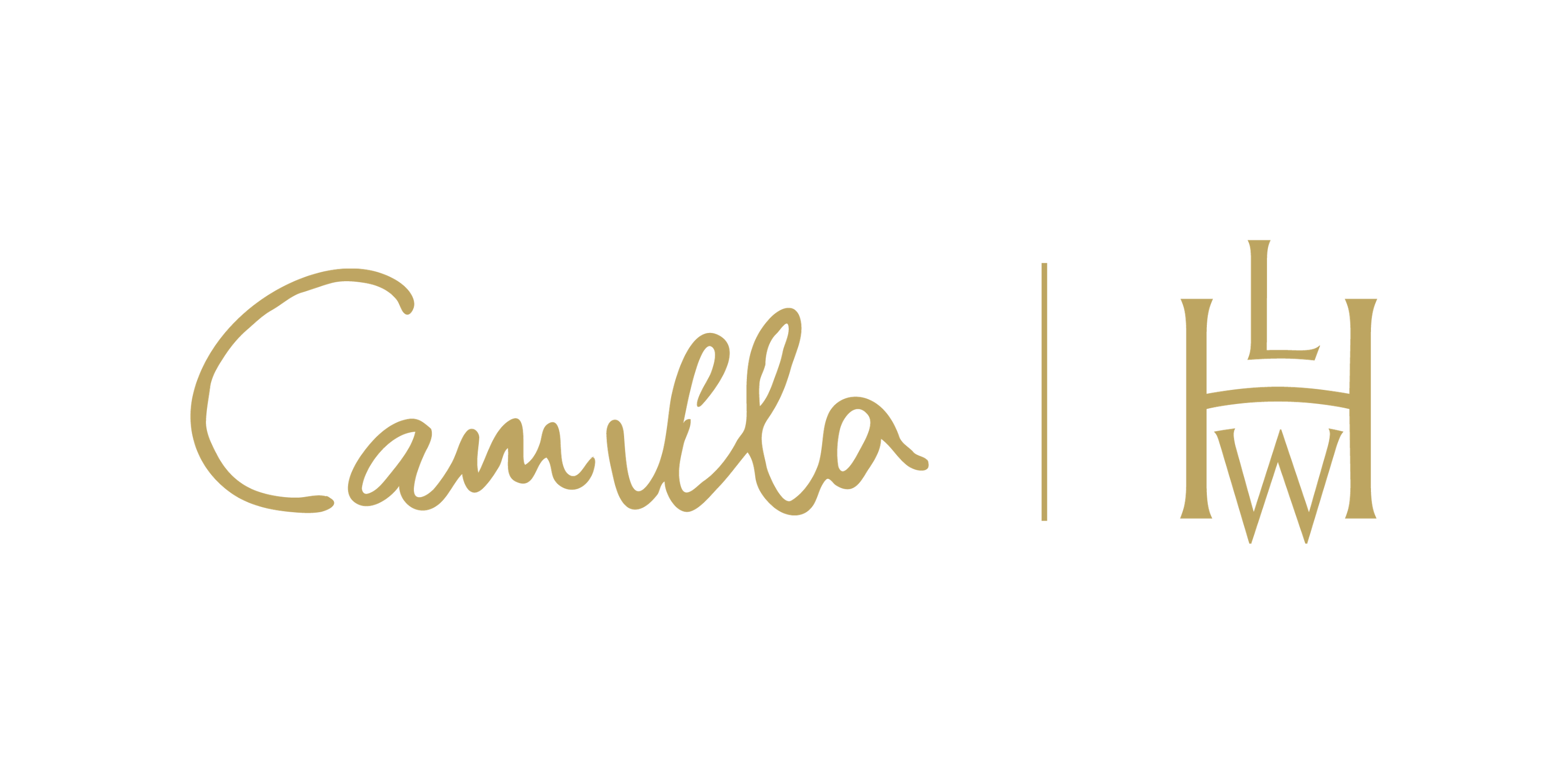 As part of the Amore Mio collection, CAMILLA has partnered with the Leading Hotels of the World to reimagine some of Italy's most iconic hotels in true CAMILLA style: as limited edition, handpainted prints splashed across luxurious silks and satins. Join us as we journey from the rolling hillsides of Florence to the endless Amalfi coastline. The next chapter begins in central Milan, at an 18th-century mansion and meeting place for those who offer their souls to culture.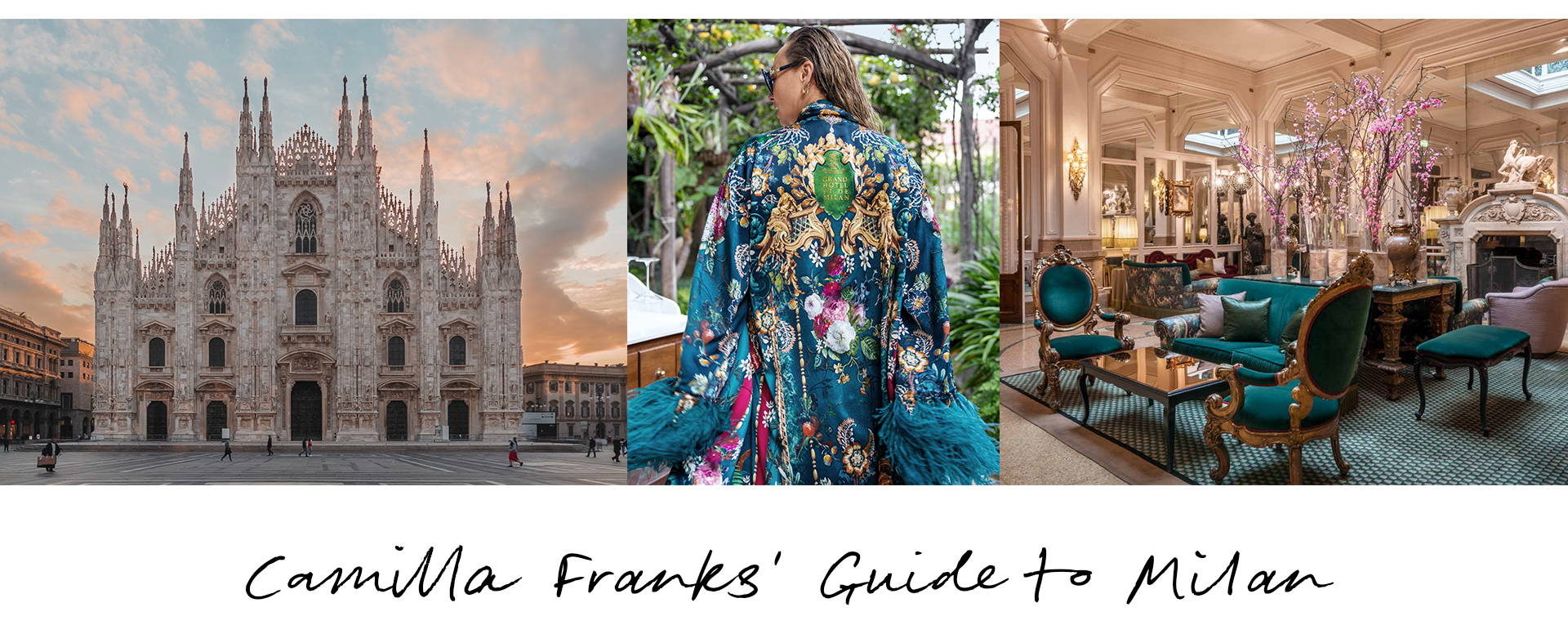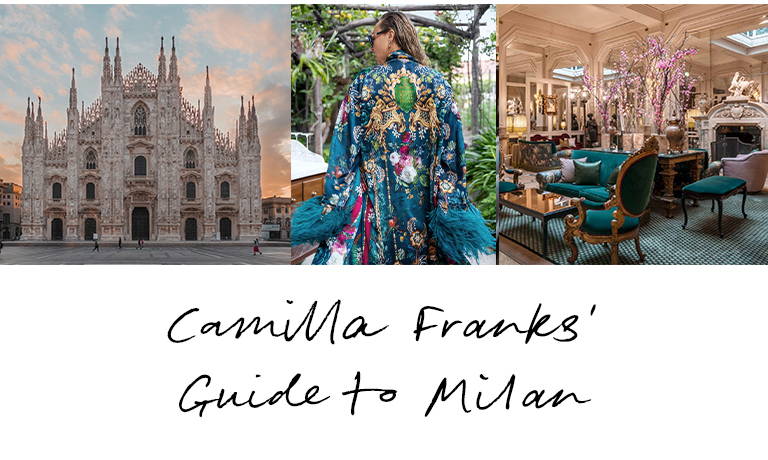 In 2021, I was whisked away into the enchanting Milanese oasis of Grand Hotel Et De Milan. It made a grand impression upon my senses to inspire the print Verdi's World, which features as part of the Amore Mio collection.
Proudly positioned in the heart of Milan, the Grand Hotel Et De Milan is a testament to old-world preservation in a city that's bolding embracing the future. Proudly run by the Bertazzoni family for three generations, this masterpiece blends Milan's rich heritage with modern elegance; underpinned by sultry notes of opulence, drama, romance and intrigue.
Emblematic of its cosmopolitan surroundings, calling La Scala Opera House and Galleria Vittorio Emanuele II its flirty neighbours, the Grand Hotel Et De Milan proudly wraps the corner block of the city's most fashionable address that Maestro Giuseppe Verdi once called home for 27 years writing his best works.
Refined yet so evident. Rich in atmosphere, softly romantic in ambience. Come for the grand interiors and stay for stories of the glittering guestlist. Musicians, artists and writers – you can feel their musings unravelling within each of the walls.
It is so very easy to be captivated by the sumptuousness of this beautiful masterpiece. A cultural beacon where eclectic locals who hold this hotel as their best kept secret. A Milanese manor where art and commerce combine mingle and the old and new world interplay.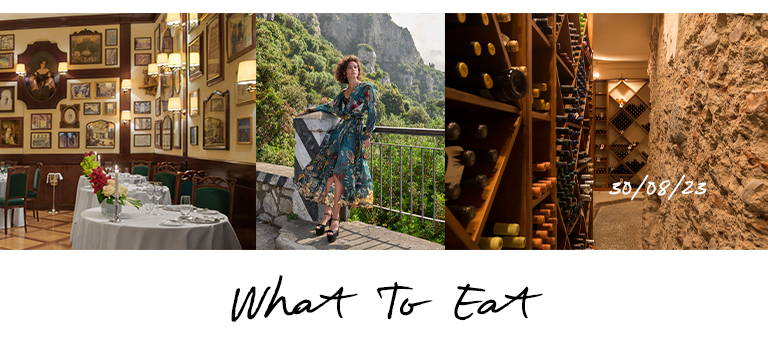 You needn't travel far to have your tastebuds serenaded. The Grand Hotel Et De Milan lobby sets a golden stage for gilded guests to gather each evening, and the dining affair at the hotel's Don Carlos Restaurant Grand Hotel Et De Milan is theatre in itself. A culinary tribute to the great Maestro Verdi himself, the walls are adorned with vignettes of the hotel's illustrious neighbour, La Scala Opera House. Honouring traditional Milanese fare, the menu is based on seasonality and fresh market produce, giving each flavour its own aria.
In this town, you'll want to opt for the classics that divide a city: Risotto alla Milanese, Ossobuco alla Milanese and Cotoletta alla Milanese.
As always, I advise to pull up a seat in a lively bar for an aperitivo. Make friends with the bartender and ask where you can find the best meal in Milan. You'll be spoilt for choice.
Sometimes it's comforting to revisit a favourite, so when I'm in town, I'll try to step into La Latteria. A tiny unassuming eight table trattoria that feels like you've arrived at Nonna's home for dinner. With its rustic charm and an unpretentious menu, La Latteria's chef, Arturo Maggi, has spent a lifetime cooking seasonal delights with ingredients from his small garden while his wife waits the tables and his son keeps the glasses full. Pull up a seat, order it all.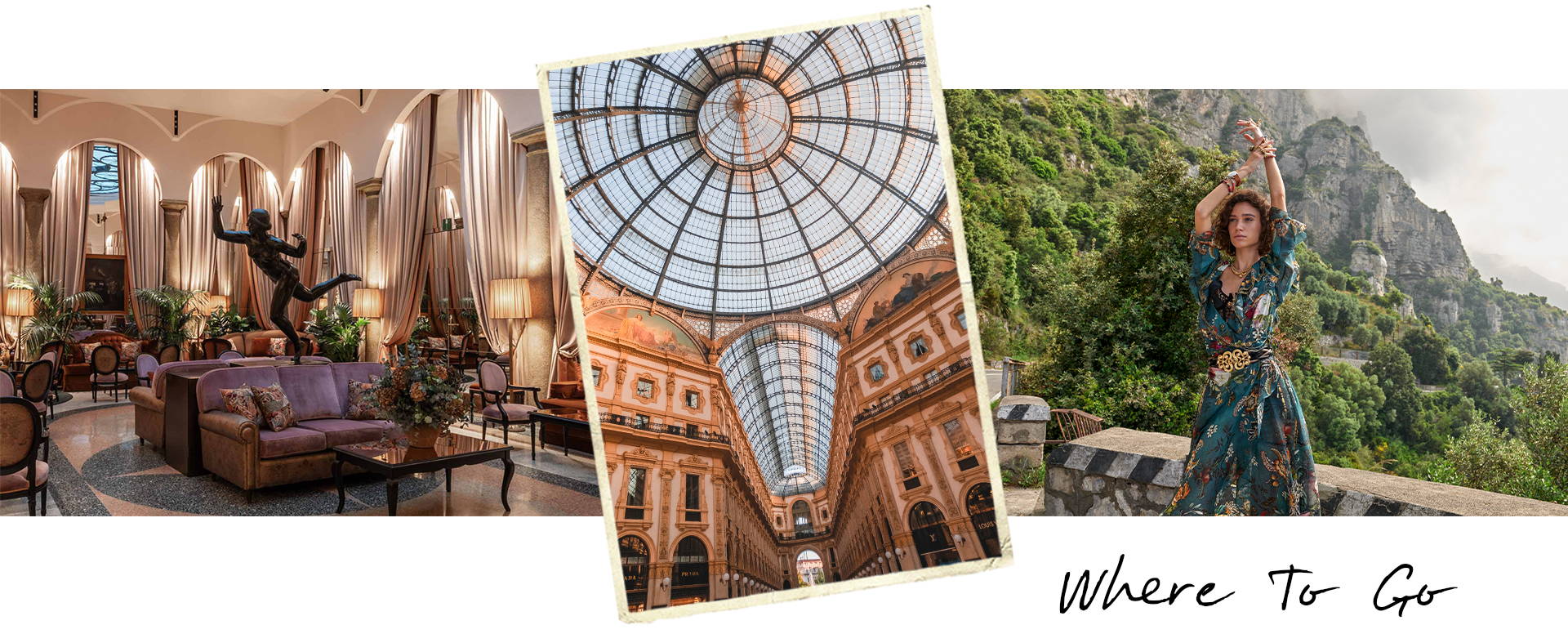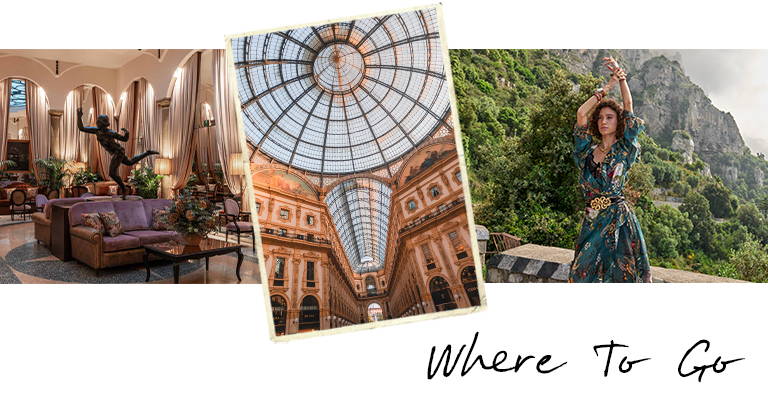 Milan very coolly holds the title as one of the most fashionable cities in the world, so I hope you brought an extra suitcase or three.
For a high octave retail rave, Galleria Vittorio Emanuele II is a timeless masterpiece that merges fashion with architectural grandeur. Nicknamed "il salotto di Milano" (Milan's drawing room), is built as two arcades shaped like a Latin cross covered by a glass dome – make sure you look up. Here you'll find the best of the best of Italian boutiques and luxury labels.  
If vintage is more your fancy (mine is too), head to Corso di Porta Ticinese for an Italian vintage treasure hunt. Be ready to pull up your silk sleeves and dive into a Nona's archive uncovering 70s silk scarves, 80s disco dresses and 90s power suits.
It would be a disastro not to indulge in an Opera show while you're in Milan, especially if you find yourself staying at Grand Hotel Et De Milan. La Scala Opera House is a gentle waltz down the road after a negroni or two, a rite of passage for Italian opera dating back to 1776. 
For some extra special, and so very close to my heart, my gift to you would be to share in the magic of Carly Paoli – who often performs in Milan. I met this angelic wonder woman in Soho Farmhouse in the UK where she enchanted a room with her classical crossover soprano on a winter's night before Christmas. 
Beloved for her powerful and emotive vocal abilities, Carly is the epitome of Italian romance and dedicated to craft. She has performed at Italian football finals, for royalty, the Pope, and the CAMILLA Tribe on our campaign shoot in Positano. She sang to an unsuspecting bar filled with people from all corners of the world sipping on their Amalfi aperitivo. Time stood still; it was a moment we'll remember forever. Bravo.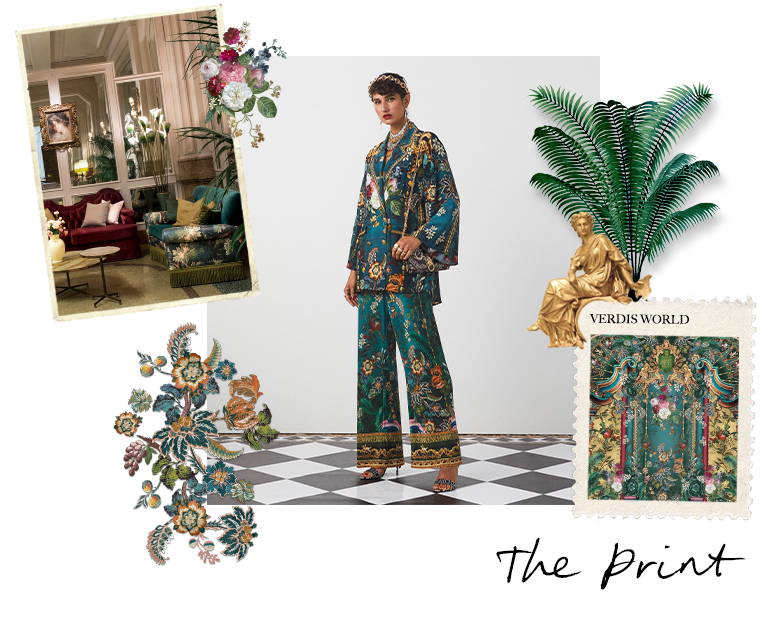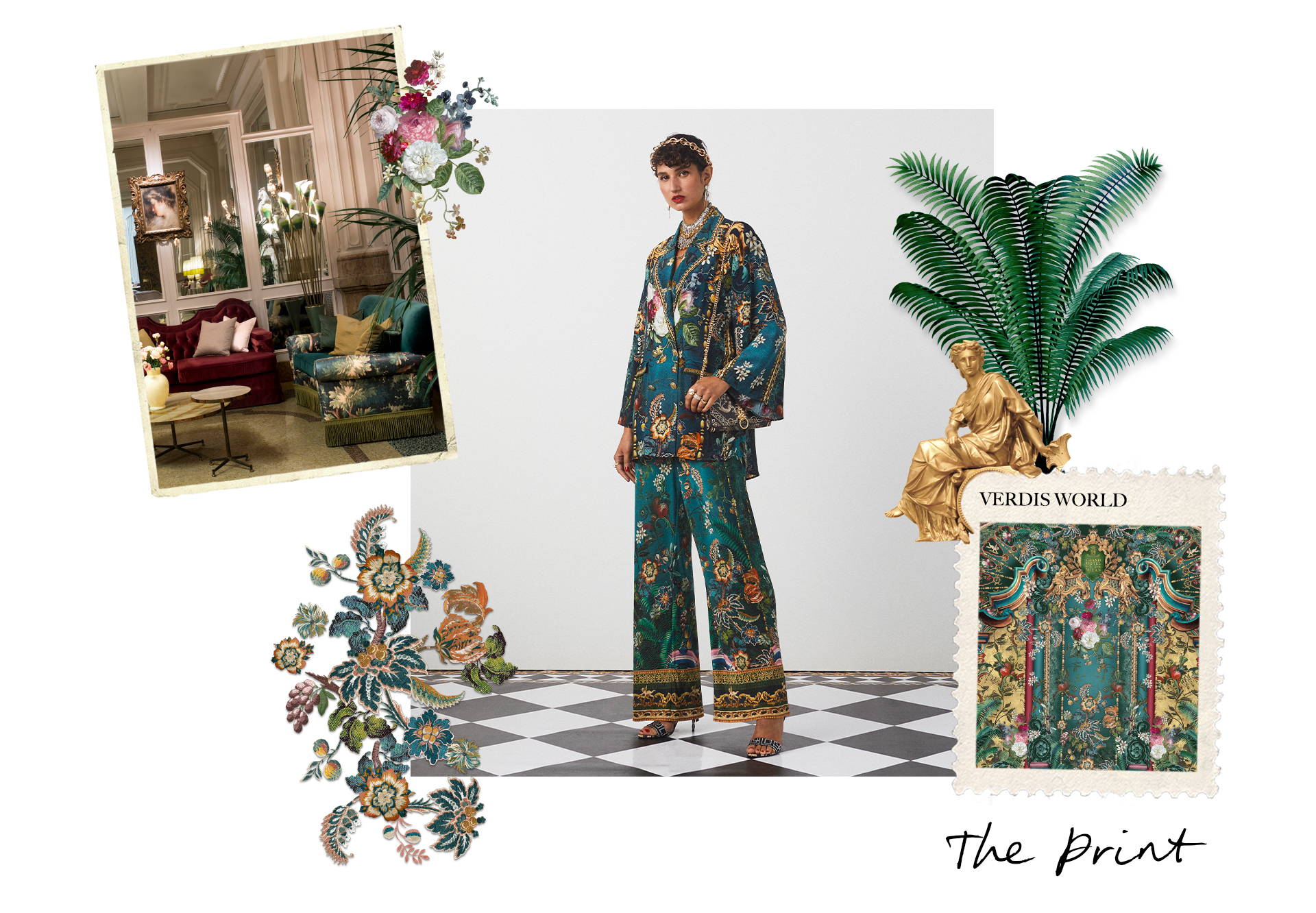 The Grand Hotel Et De Milan is the birthplace of my lavish print Verdi's World: an operatic ode to Milan's most iconic residence.
This structure of grand design is overflowing with stories of high society from bygone eras: artists, musicians and film stars who swept across its marble floors, danced under its ornate chandeliers, and convened amongst its decadent jacquard walls and handpainted furniture. At every turn, you feel enveloped in the theatrics of old Italian charm – an atmosphere of timeless beauty and refinement, which finds its expression in this print.
Verdi's World pays homage to the hotel's lavish old-world interiors, cosmopolitan ambience and countless celebrity residents, featuring design details inspired by its luscious teal furnishings, iron work bannisters, rich textured furnishings and charismatic palm trees.
Music notes, gold filigree, marble statues, angels, cherubs, the hotel crest – even a handwritten letter from the hotel's archive – are splashed across luxurious silks and satins. Hidden within the trim, you'll also find the names of famous composers, singers and musicians including Caruso, Gazzeloni and the print's namesake, Verdi.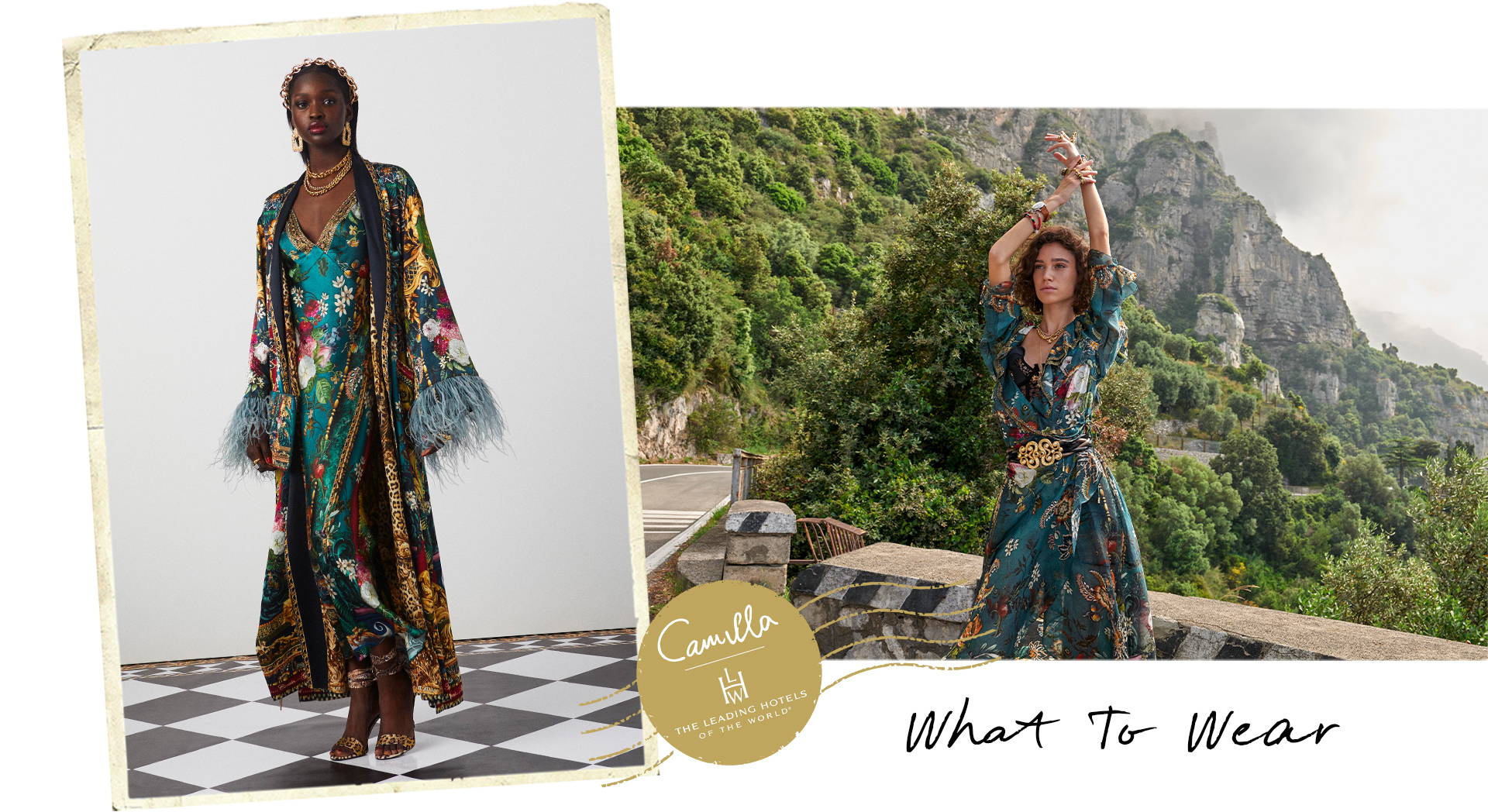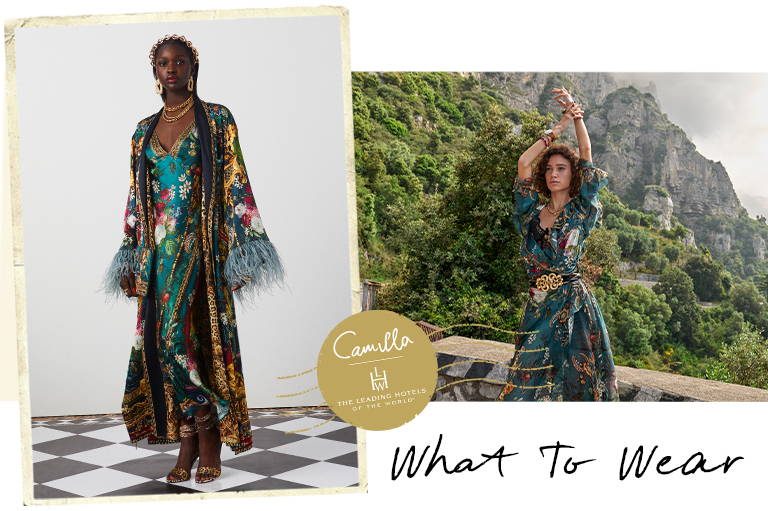 Create your own Milanese melodrama that mixes art and commerce. Think power suiting, opera coats with feathered trims, opera skirts and sunglasses to people-watch from across the theatre.