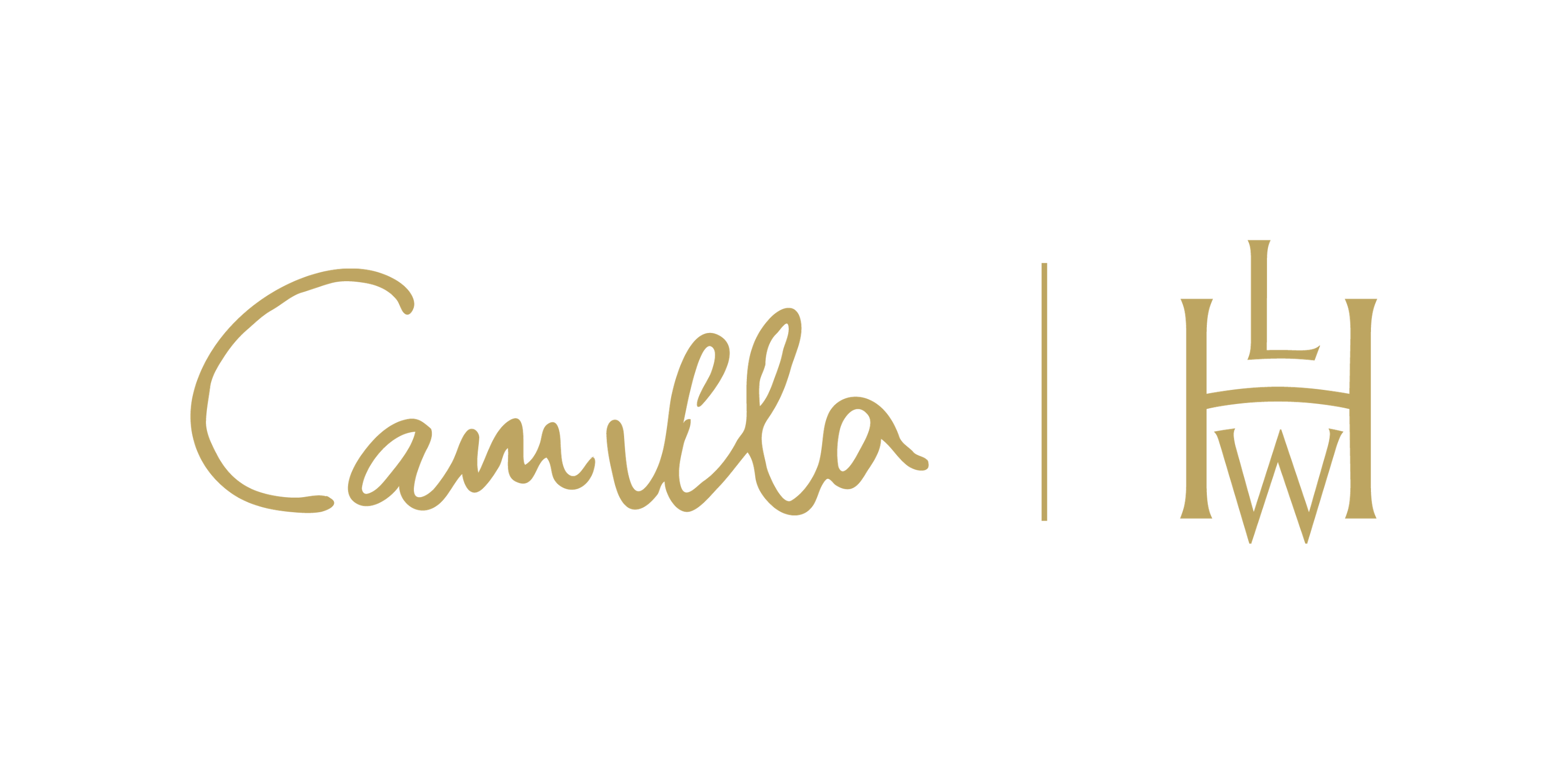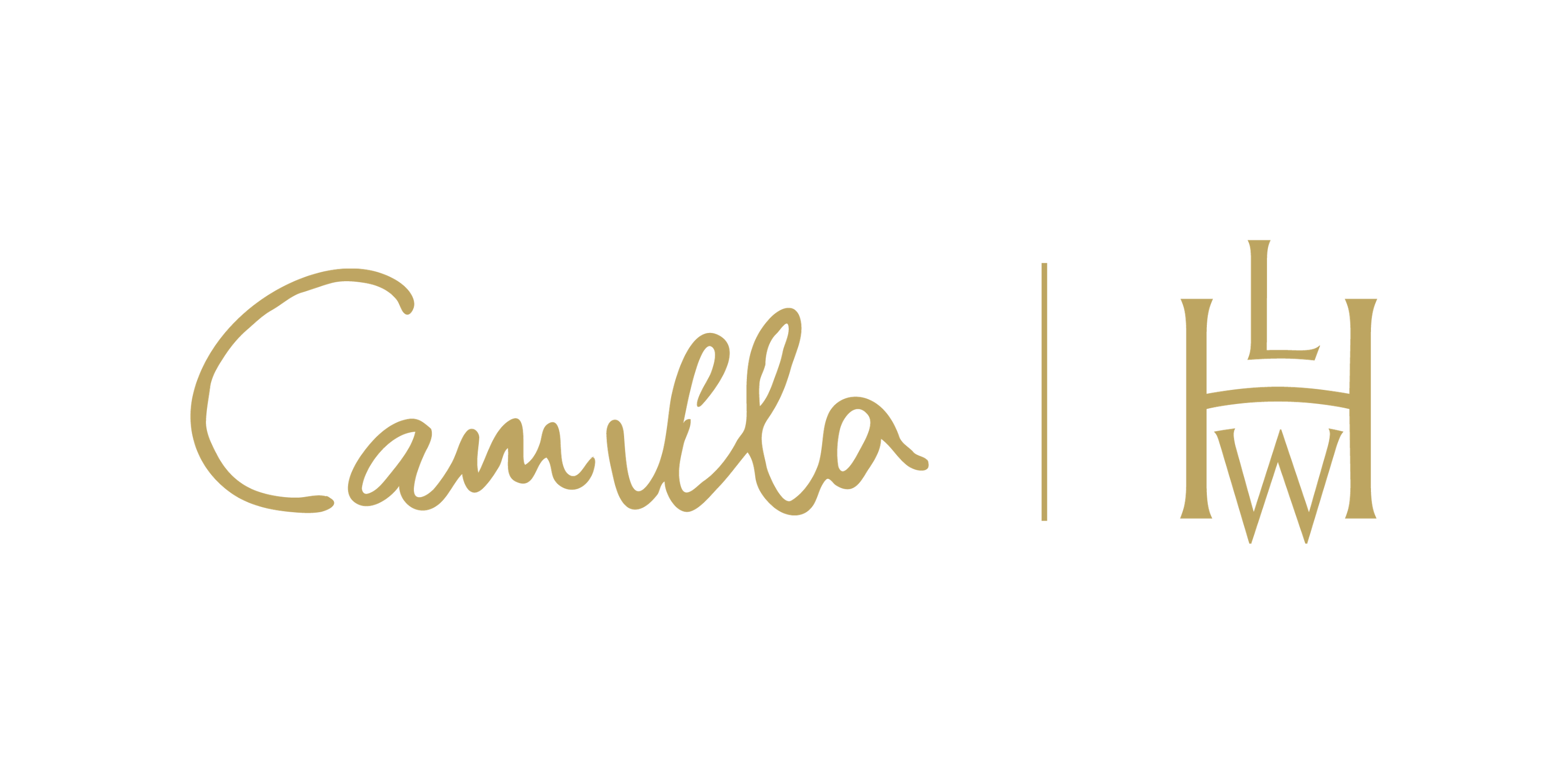 CAMILLA has partnered with the world's largest independent luxury hotels collection, the Leading Hotels of the World to reimagine some of Italy's most iconic hotels in true CAMILLA style: as limited edition, handpainted prints splashed across luxurious silks and satins. The next chapter begins in Sorrento, at the iconic Grand Hotel Excelsior Vittoria.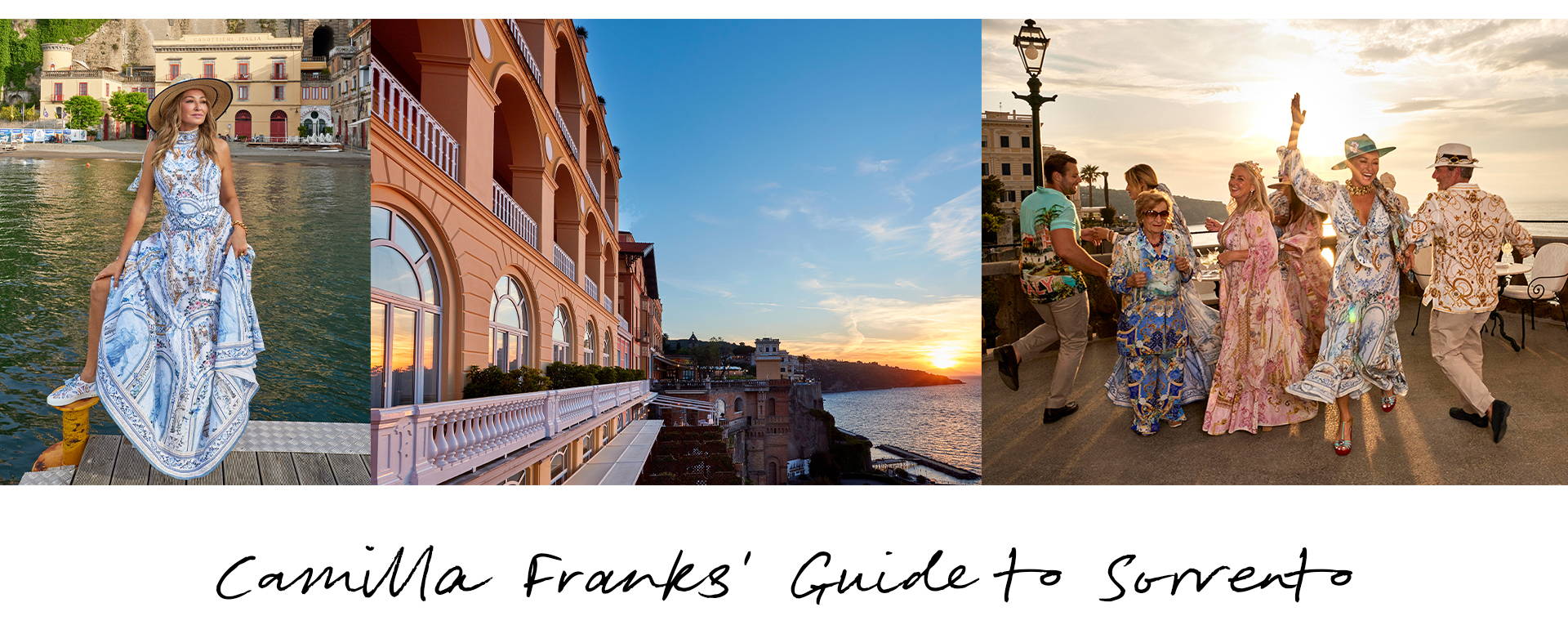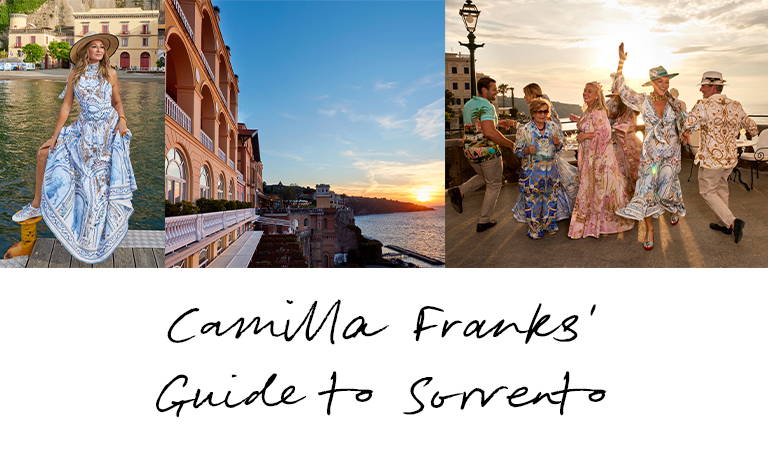 In the bustling streets of Sorrento is a hidden driveway. Many walk past with intrigue, peeking down through the lush gardens to see what resides at the end of the drive. 
In May 2022, I wandered down this same drive and into the warm embrace of Grand Hotel Excelsior Vittoria – An all-encompassing hotel defining Italian luxury that overlooks the Bay of Naples and Mount Vesuvius, and exudes coastal cool on a superlative scale. 
Since its illustrious inception in the year 1834, the esteemed establishment has remained under the unwavering stewardship of the venerable Fiorentino lineage. Guido, a paragon of expertise and charisma, commands the position of Hotel Manager, while his beloved wife, Ornella, graces the daily operations with an air of matriarchal elegance. Meanwhile, Luca assumes the mantle of overseeing the hotel's marketing; infusing the establishment with modernity whilst holding true to its refinement, while Signora Lidia, Guido's mother, imparts her refined taste by meticulously sourcing and adorning the hotel with the exquisite antiques spotted at every turn.         
 Brimming with the opulent grandeur of 18th-century columns, resplendent marble busts, meticulously crafted hand-painted frescoes, and a profusion of seaside florals that grace its every corner, the hotel stands as an awe-inspiring testament to the ages. Its three iconic 19th-century terracotta building are poised like guardians of time, piercing an eternal azure expanse, where the boundless sea of the Amalfi Coast kisses the heavens.
Notes of Italian bygone eras run deep in the hotel's foundations. Legend has it that the ruins of Roman Emperor Augustus' villa lay beneath the property - harmonising the illustrious present to the majestic past.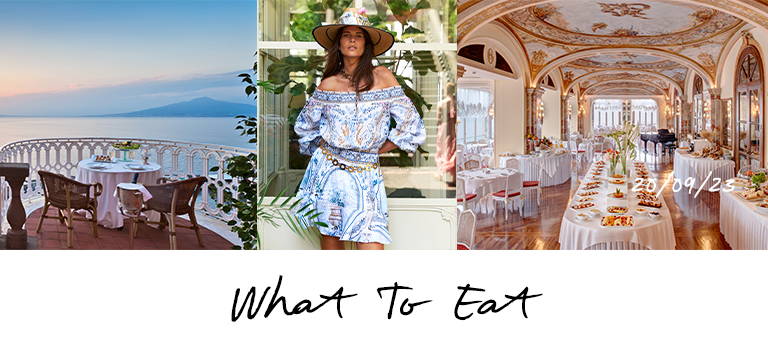 The Grand Hotel Excelsior Vittoria is a blissful marriage of my unwavering passion for Italian cuisine and the bounty of the sea. Within its opulent confines, you can start the day with breakfast beneath gilded ceilings at Salone Vittoria, settle in for a long lunch in the enchanting hotel gardens and then circle back for a sunset aperitif on the grand balcony overlooking Naples and Mount Vesuvius. All in a day's leisure.
Slip into something fabulous and stroll downstairs to the hotel's Michelin starred Terrazza Bosquet for dinner. Executive Chef Antonino Montefusco, along with his team, create with only the best locally sourced produce from suppliers whose families have operated in the region for centuries. A perfection of harvest from generation to generation.
For a meal you'll never forget, visit my friend Enzo Manniello – lovingly known as the Lemon Man – at Sorrento's O'Parruchiano. Hailed as the 'Museum of Hospitality', it is truly like something out of a fairy tale and lives up to its title… A grove bearing the largest lemons you'll ever see in this lifetime wraps around the glasshouse-like restaurant that has been serving classic Italian fare for three generations with more to follow. To eat at O'Parruchiano is to love O'Parruchiano. If you're lucky, Enzo might ask for a dance, too.
A short yet cinematic drive away is Fattoria Terranova –  a fairytale farmhouse in the Sorrento hills and a haven for organic produce, wild herbs and edible flowers. The concept of farm to table is championed here, with produce served all grown with love on the surrounding six hectares. Try your hand at Mediterranean cuisine with on site cooking lessons, or simply pull up a seat by the kitchen counter with a glass of Pinot Grigio and watch culinary art unfold.
When you're ready to cool down, head to Antica Gelateria Sorrentina for the region's best gelato and granita. No judgement for second or third servings.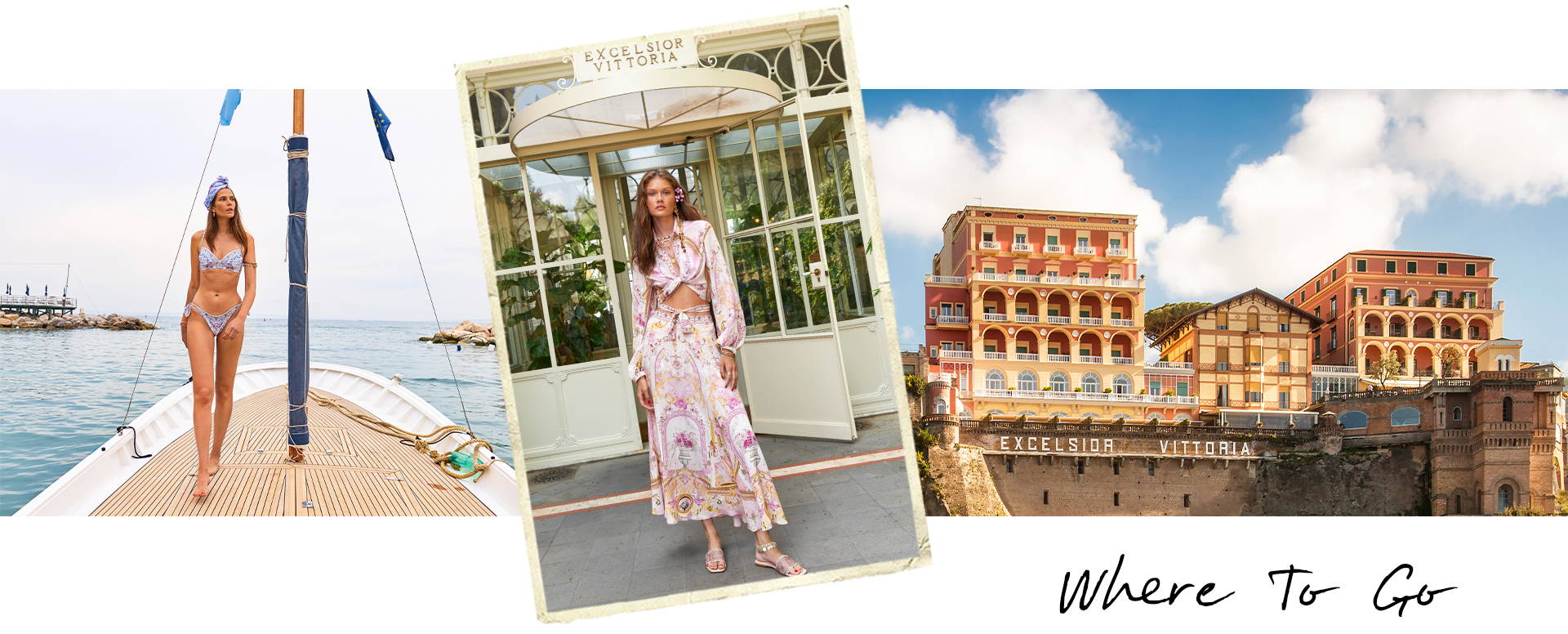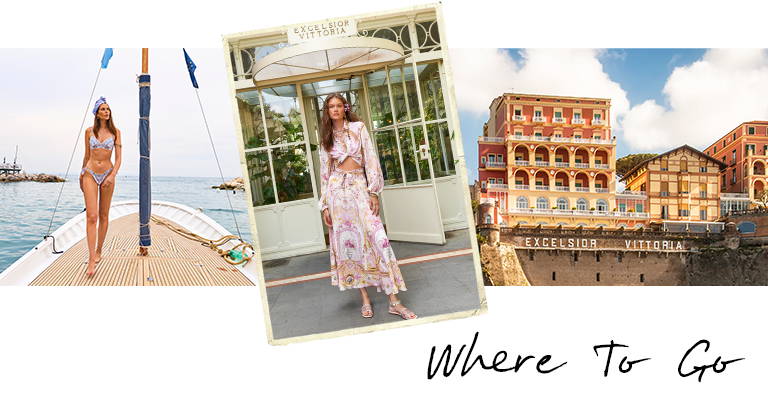 An Amalfi legend frequented by royalty, actors, writers and everything in between – the Grand Hotel Excelsior Vittoria is a destination in itself. An idyllic location that hugs the coastal cliffside, it's surrounded by five acres of private gardens with citrus and olive groves and offers those who wander in a handsome slice of refined Italian luxury. The hotel's sprawling terrace, perched over the Bay of Naples offers breathtaking views of Mount Vesuvius that melt between the piercing blue sky and the infinite Amalfi sea from dawn til dusk.
Once you arrive, you won't want to leave – and with good reason. However, Sorrento is the gateway to the Amalfi and it would be rude to not check in with the neighbours. Positano, Capri, Pompeii and Naples are calling your name – ask the hotel for a driver and set off. For something more rock and roll (you're on holidays), hire a boat for the day and swim, drink and eat along the coastline until you find Capri.
Peter's Beach in Sorrento is a haven of summertime ambience, brimming with cobalt blue chairs, colourful huts and striped beach umbrellas. Beach clubs are scattered all along the waterside, so take your pick and settle in for a 'sweetness of doing nothing' session. A round of spritzes, grazie.
For a long lazy day, head to Conca Del Sogno, a beach club on the Amalfi Coast. If your suitcase is in need of a few new additions I highly recommend a visit to Corso Italia in Sorrento. It's one of the best shopping streets and home to plenty of restaurants and bars, along with one of my favourite fashion stores, Kendzhya.
Make time for an after-dinner stroll down Via San Renato. Passeggiata is an Italian artform you'll want to bring home with you. Practice makes perfect.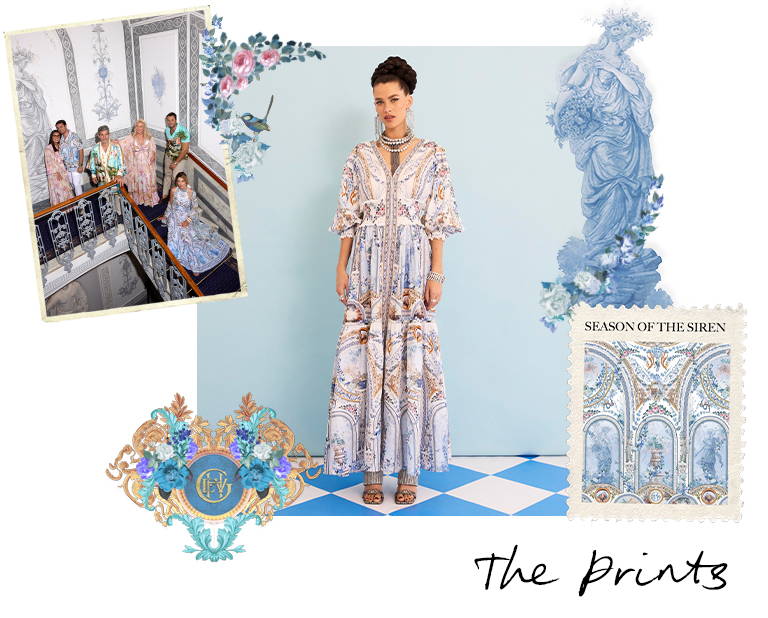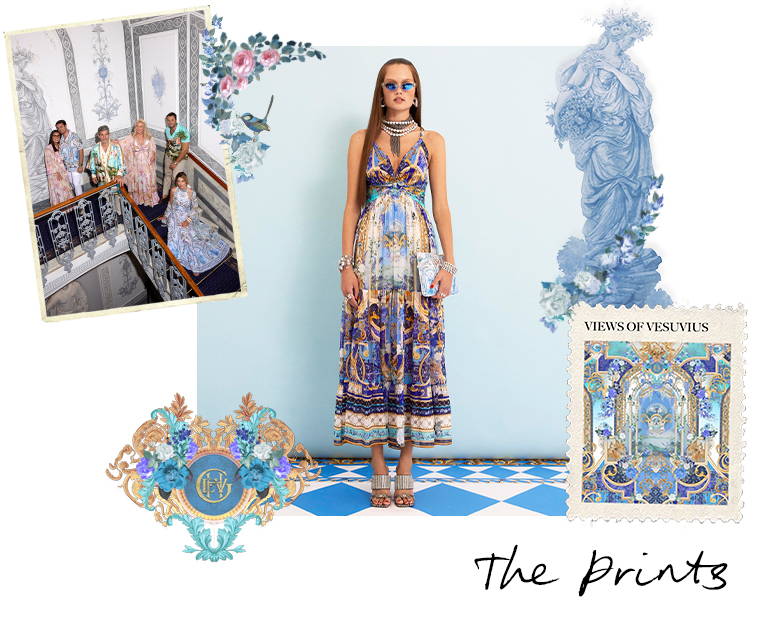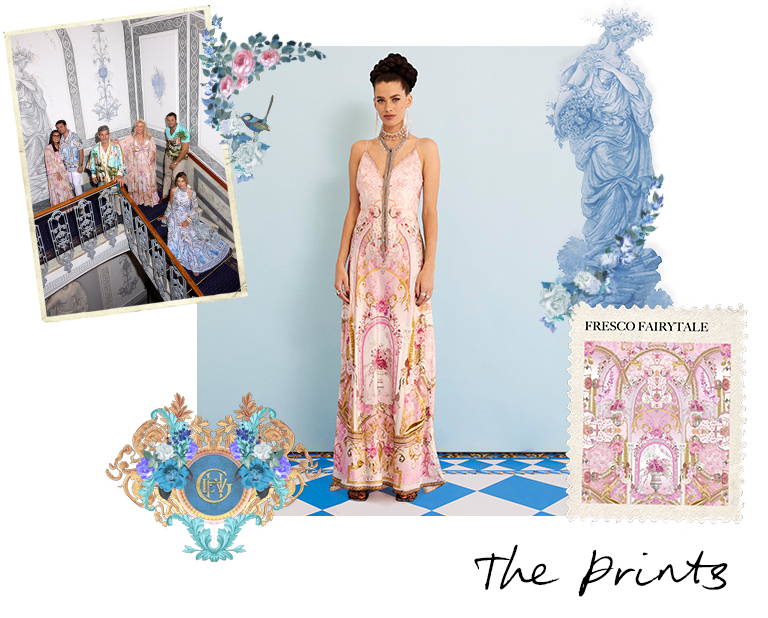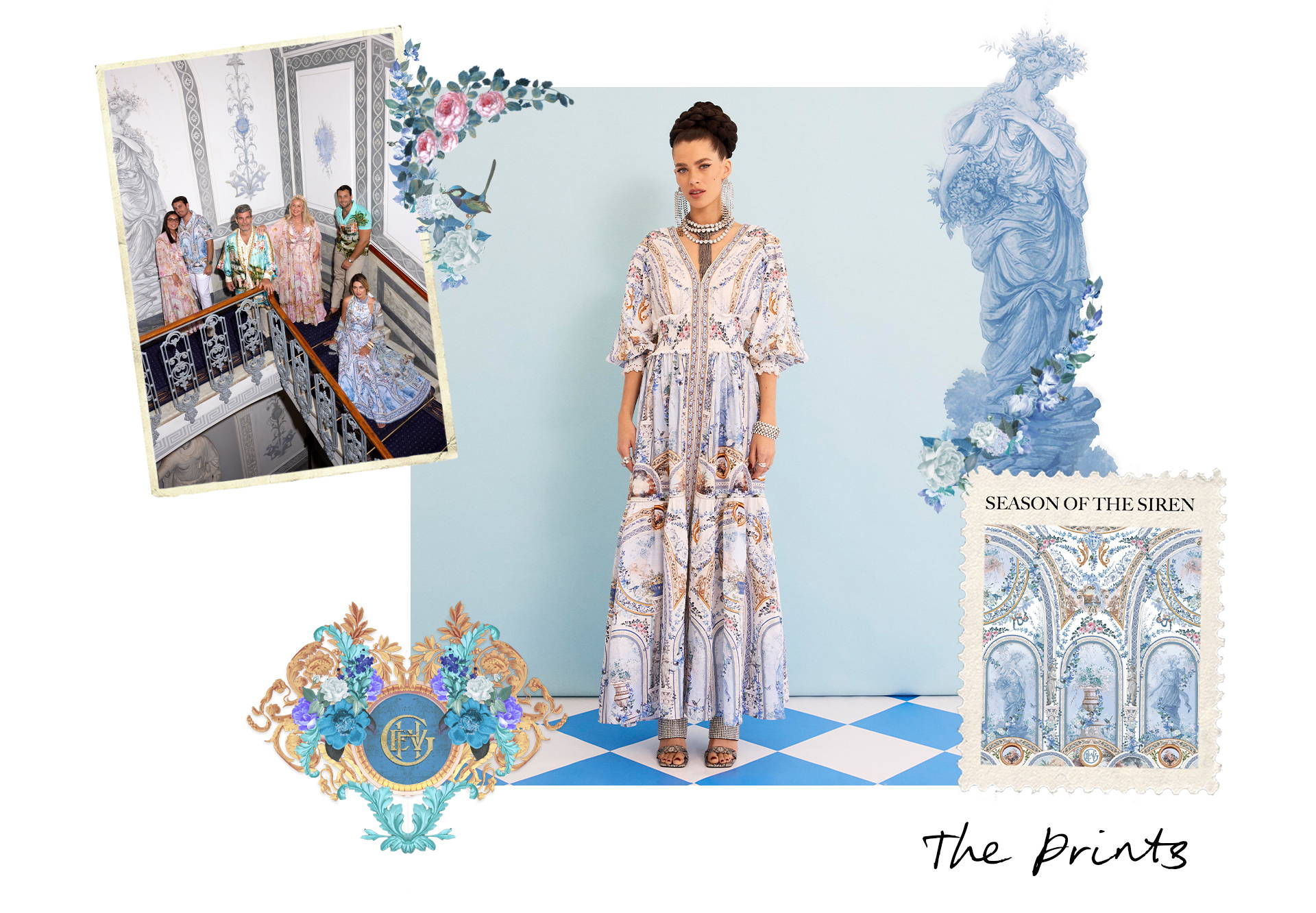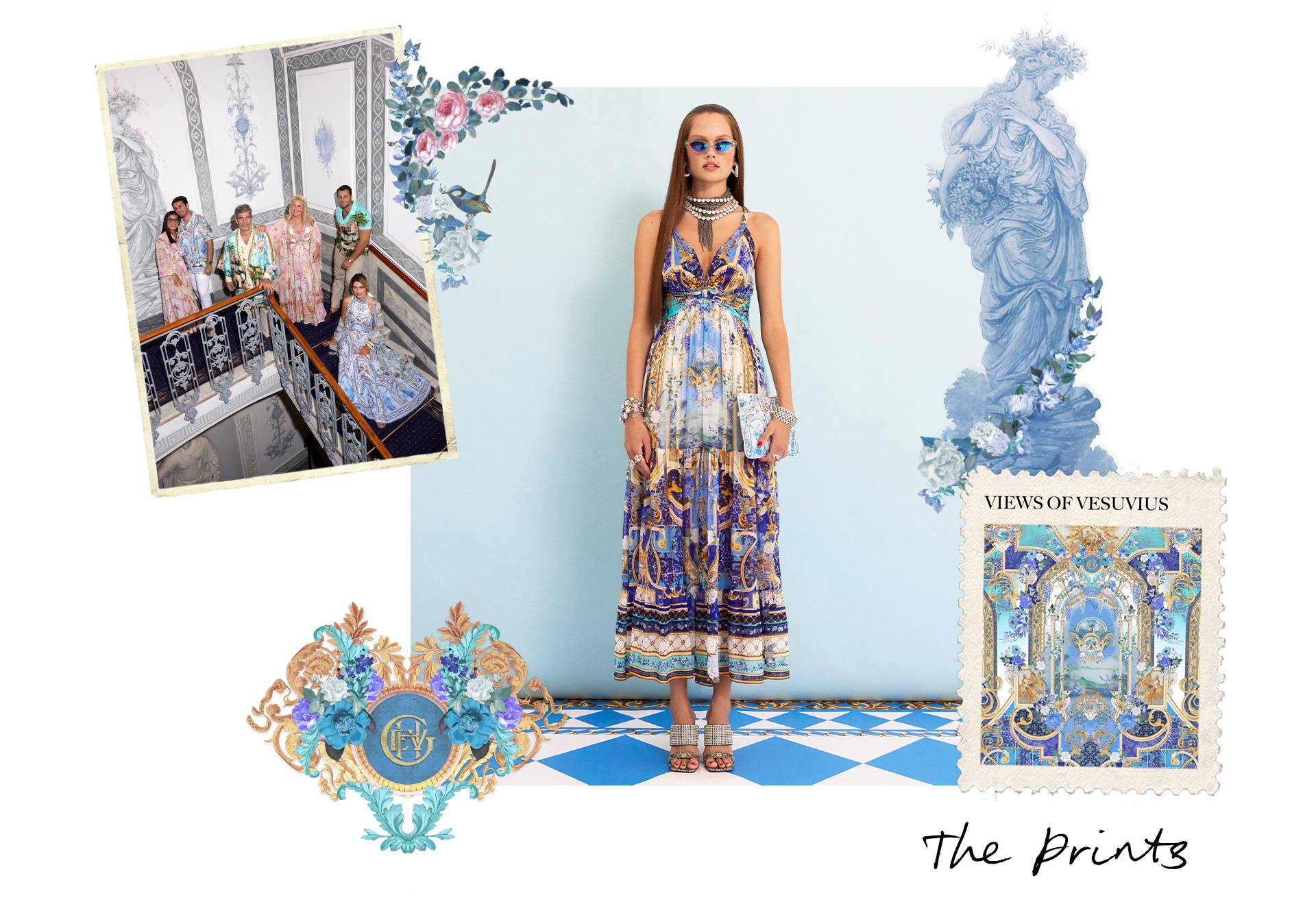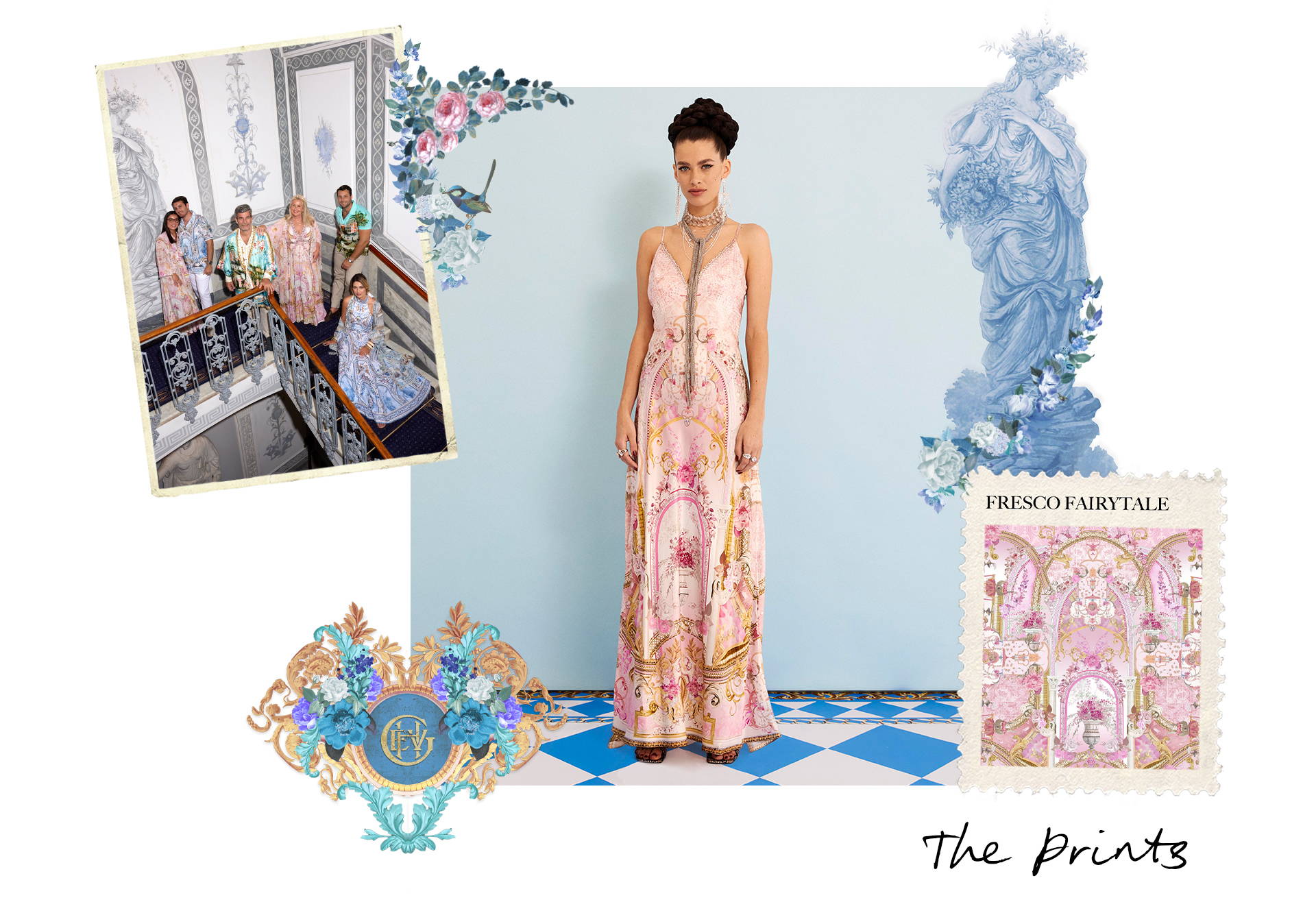 Grand Hotel Excelsior Vittoria comes to life in a completely new form in the new prints Views of Vesuvius, Season of the Siren, Fresco Fairytale – each one of which is inspired by a different room in the hotel – and From Sorrento With Love, which reimagines the iconic hotel exterior as a vintage Italian tourism poster. 
Me and my team of in-house artisans painted and sketched every stunning element of this hotel in as much detail as possible. The soaring handpainted ceilings, frescos, cherubs, arches and marble busts, the sunset seen from the terrace, the rich terracotta building, the white umbrellas dotted across the break wall... the piercing blue sky and the endless ocean, even the hotel insignia makes a cameo appearance. 
These prints are woven with moments from my personal travel journal: the scent of freshly baked pastries as we ate breakfast beneath the gilded ceilings of Salone Vittoria, the taste of espresso on my lips as I rode the elevator down through the rock to the beach below, my yearning for fresh seafood and a crisp vino bianco after a long day in the ocean.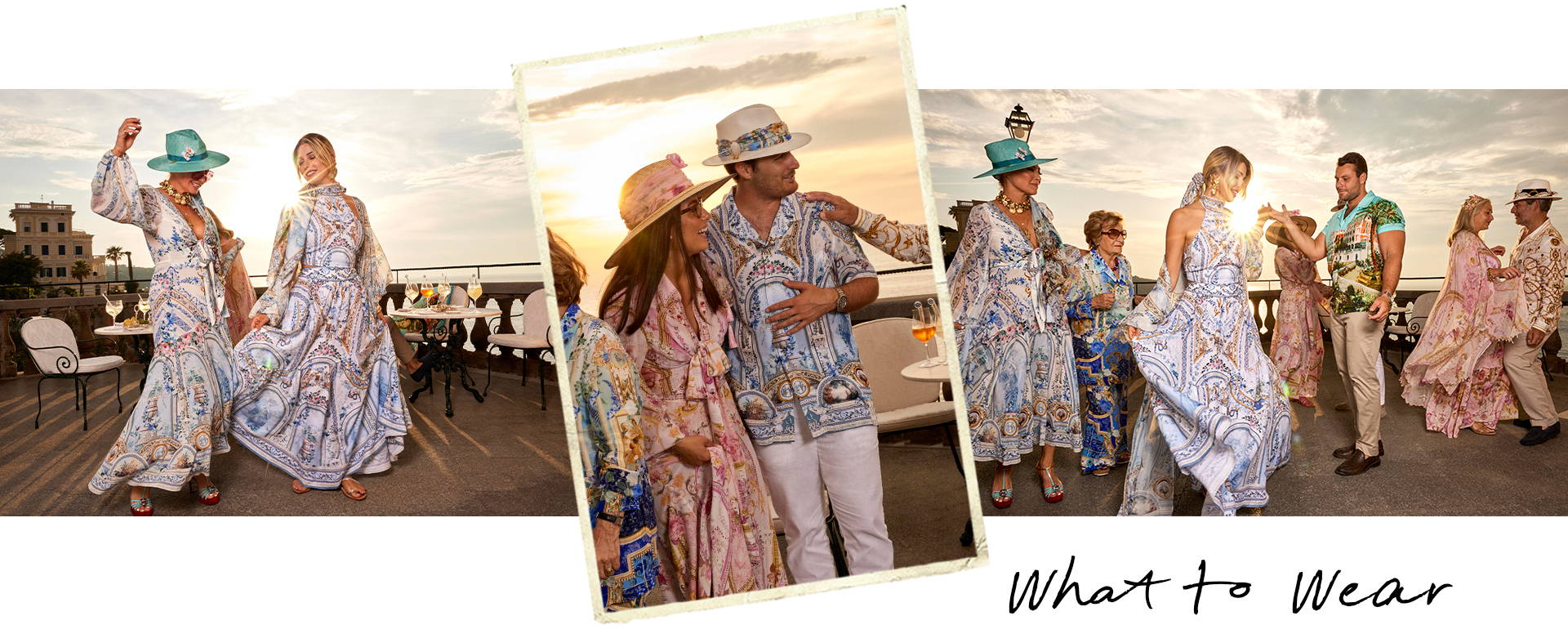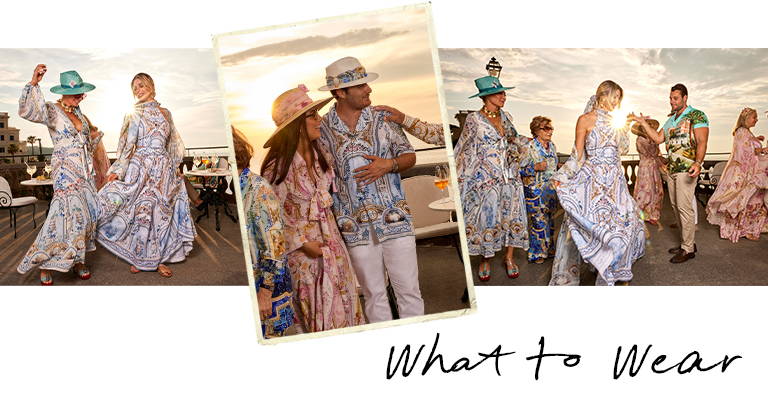 Honour the Italian coast with breezy linen pieces to billow through the hotel. Opt for billowing palazzo pants, a flowing shirt and head wrap to wander Sorrento's cobbled streets. If you're in the mood for a dainty dash of dolce vita, tying a knot in your shirt is an easy mid-afternoon outfit zjoosh. In the evening slip into a slip dress or a catsuit for a high glam Sorrento statement. Sunglasses from day into night, naturally.