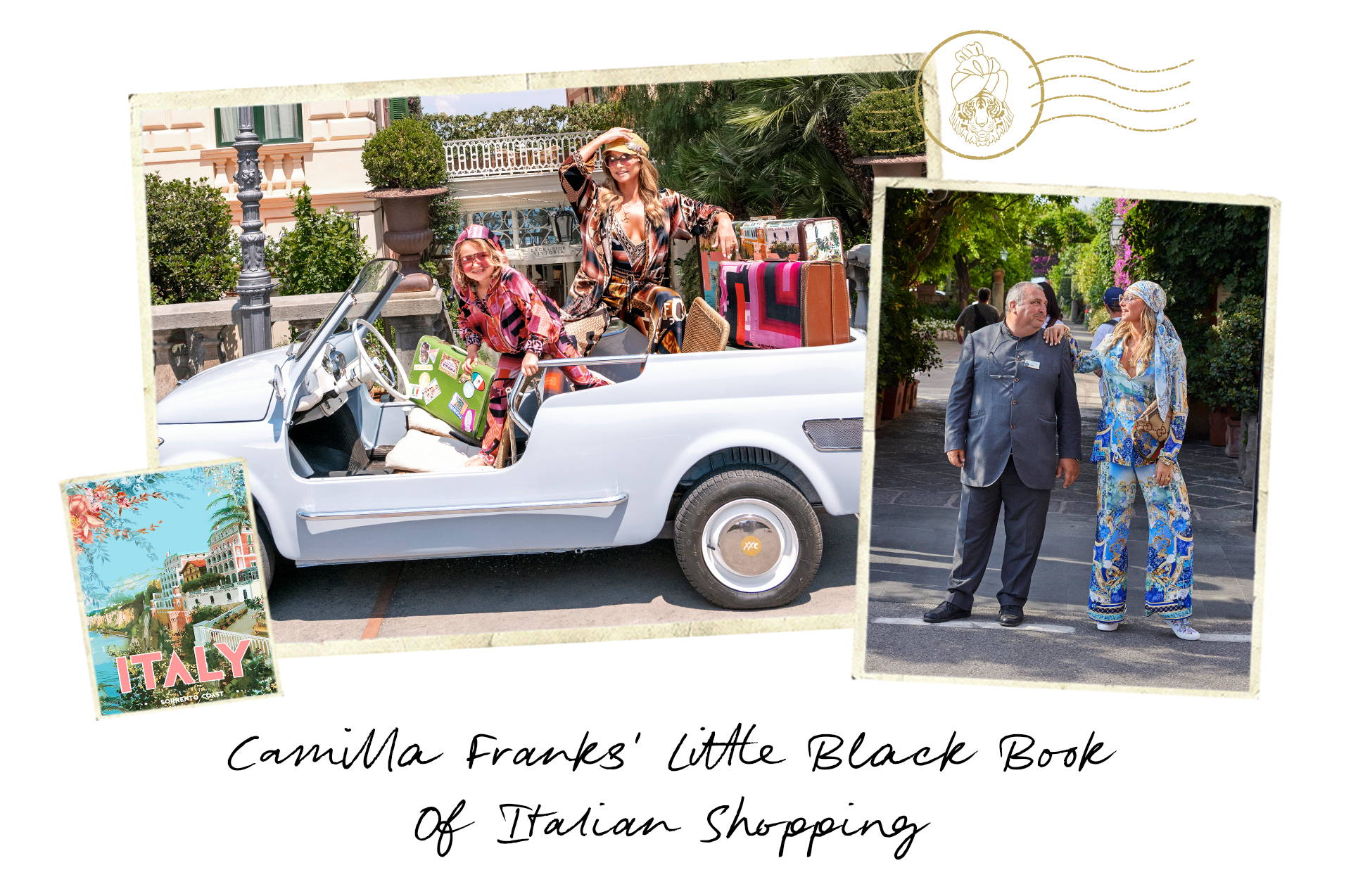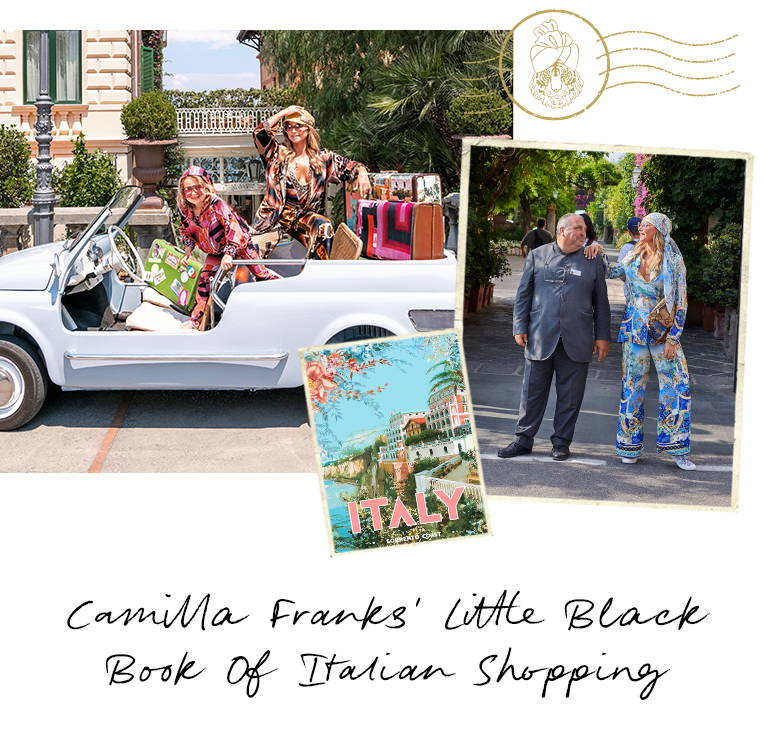 Twice a year, I set off on the road in search of things that both inspire and enrich my creative senses. I've always been of the belief system that travel is a multi-dimensional encounter, layered with sights, sounds, tastes, textures, colours, and people. When it comes to my own medium of print design, I look to encompass it all and bring my prints to life in silhouettes that are synonymous with the region I am researching.

For our Amore Mio collection, I delved into the birthplace of luxury fashion to unravel the history! the passion! the drama! and everything else the Italians have so beautifully (and quite literally) woven into their history.  From high voltage luxury boutiques, to emerging small brands that line the quiet back streets, the intergenerational tailors and dressmakers seamlessly creating masterpieces, and the lively vintage markets hosting pieces from yesteryear.

I've compiled my tried-and-true black book of places I revisit time and time again to inspire my collections and often inspire another wardrobe to be built somewhere in my house. Like everything, the Italians do it best – so spend wildly and somewhat wisely.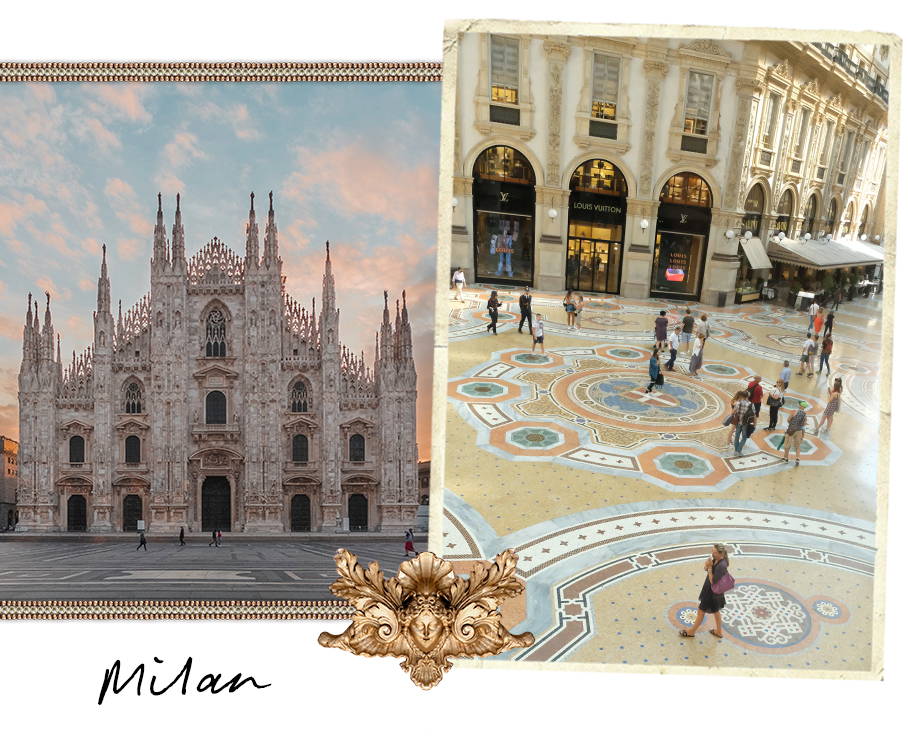 For high end, the Milanese do it best and everyone deserves a piece to remember Milan by. Make your way to Via Montenapoleone or Galleria Vittorio Emanuele II and weave in and out of some of the world's best flagship stores. Stop for a champagne to contemplate that handbag you saw a few stores back.
For vintage, head over to the charming Brera and Via della Moscova districts, which are home to the city's best vintage boutiques offering pieces from every era. I also love Circolo Filologico, a vintage market that holds pop-ups across the city. And for a Sunday stroll, head to East Market to uncover a warehouse housing vintage clothing, jewellery and artworks. Remember to take cash for the markets along with a charming smile and playful attitude for bargaining.


The Haute Haven of the world, Milan offers every colour of the fashion rainbow. High-end and independent boutiques, vintage stores, and flea markets – there is always a special kind of something waiting to be uncovered for those who seek their own Italian magic.
DISCOVER THE COLLECTION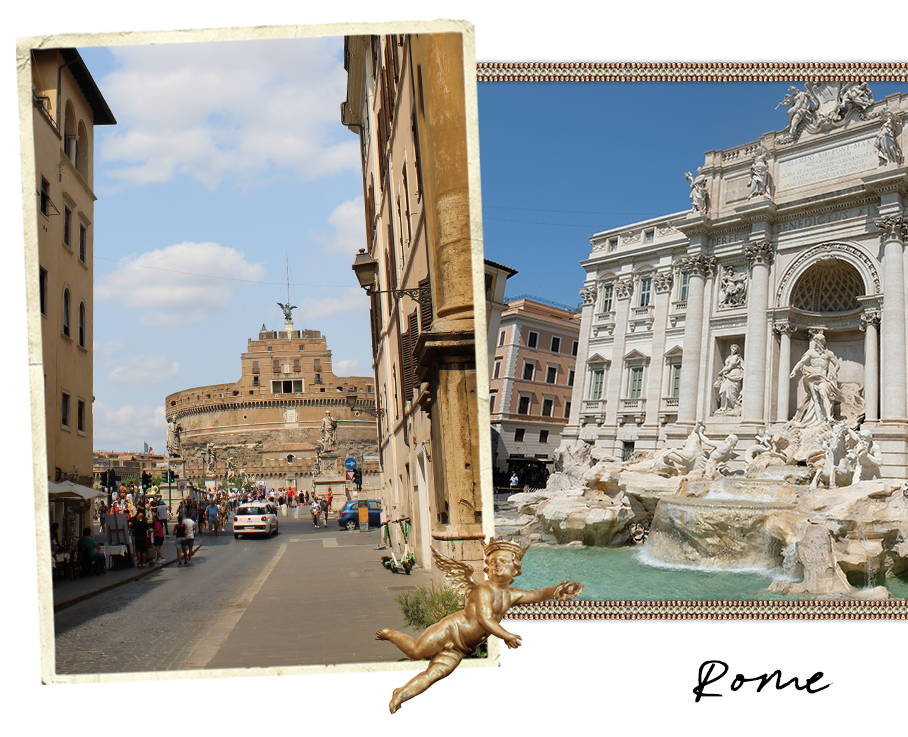 The Eternal City is a paradise for vintage fashion and antique collectors ­– it's my go to in Italy. Expansive with an endless array of hidden pockets, Rome offers a wonderland of shopping experiences; from independent boutiques hosting luxury vintage to sprawling antique markets almost every day of the week.
Porta Portese Flea Market and Mercato di Borghetto Flaminio are bustling treasure troves in Rome beckoning you to embark on a Sunday morning expedition like no other. Both markets spring to life with a vibrant tapestry of offerings that'll leave your arms (and soul) full. My hack is to buy a Nonna-style wheelie bag from a tourist shop so you can load up on finds without the cost to your stamina (you'll need it!)
Mecarto Monti, located in the ever-trendy Monti district, is an indoor market held on the weekends. Beyond its doors, lies a realm where carefully curated vintage treasures are nestled in with the radiant creations of emerging designers.
Lastly, if your travels find yourself in Rome beyond the weekend's electric embrace, fear not. Mercato dell'Antiquariato di Campo de' Fiori is held every day in Campo de' Fiori square. This market is a melting pot of antique furniture, prints and jewellery just a stone's throw from the city. Be sure to call ahead to your airline and book in some more luggage allowance. (You'll thank me later.)
SHOP THE PRINTS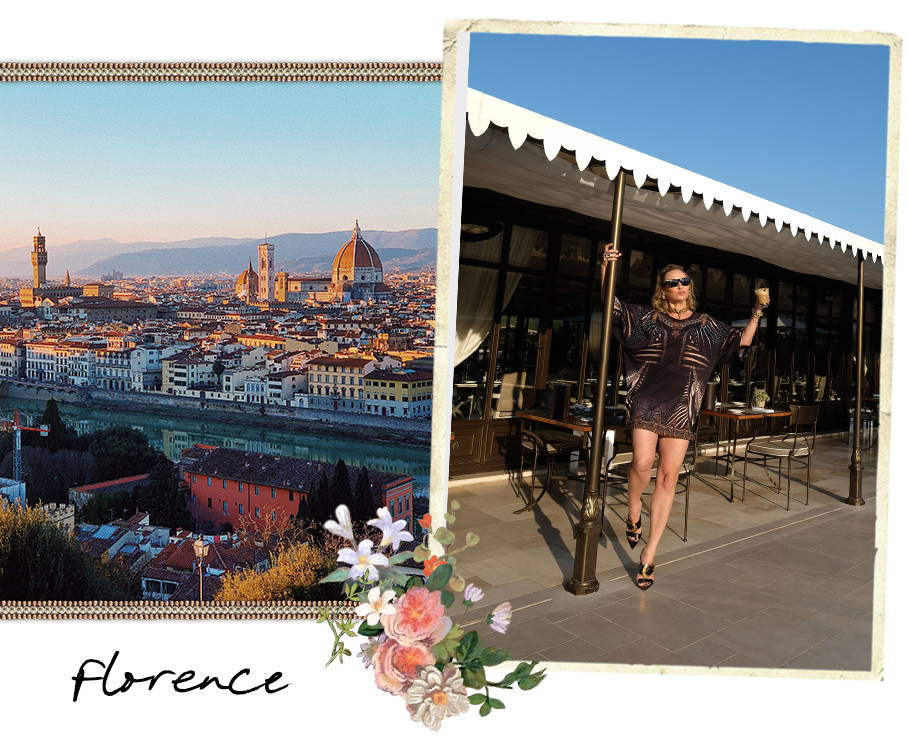 I could fly In and out of Italy for the sole purpose of shopping in Florence. While this magical city is often celebrated for its iconic contributions to Renaissance art and Italian architecture, the influential impact of this Tuscan beacon is proudly woven into the fashion you see flaunting the streets of Florence today. It's an intoxicating aperitif of pride, craftsmanship and romance. Simply perfecto. 
Open daily, Mercato delle Pulci in Piazza Annigoni is perhaps the most best-known vintage haunt in the city. You'll be welcomed into the bustling fold with antique furniture, vinyls, tapestries, clothing, books and ceramics. The same goes for the Santo Spirito Market in Piazza Santo Spirito, held every Sunday, and Piazza Santissima Annunziata Antique Market, held every third Saturday and Sunday of the month. 
I find in Florence that with a little strolling you can find friendly folk selling vintage wherever there is space. I've discovered some of my all-time favourite pieces set up on a rail tucked away in a street less travelled. 
Being the beautiful city it is, Florence is best on foot and while you're wandering between iconic sites - you'll find yourself standing outside a charming independent store selling wallpaper, maps or local artworks. Often nonchalantly nestled next door is a high-end luxury brand, adding to the eccentricity of the city layout, where old and new meet and get along like old friends. Wind through the streets and fill your arms with the best shopping in the world, ensuring to pop into the Gucci Gallery, too.

SHOP THE CAMILLA FRANKS EDIT
SHOP NEW ARRIVALS

I could visit these spots time and time again, and still find my new favourite piece. After years of flea markets and vintage fairs, I know one thing to be true: Italian clothing is inextricably tied to pride, love and longevity. I hope these places fill your heart (and wardrobe) for many years to come.