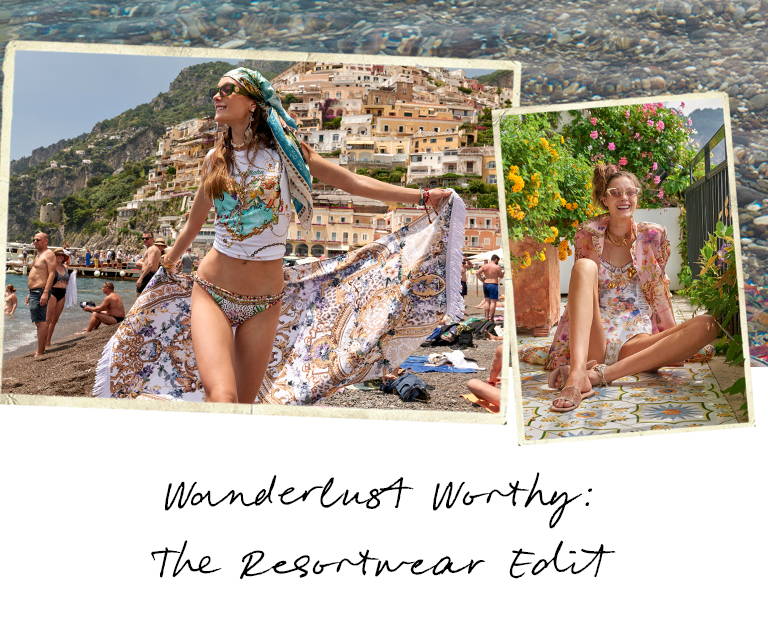 As we ease back into the swing of global travel, the globetrotters and wanderlust hearts among us breathe a sigh of relief. Not only that we can once again roam this beautiful world of ours, but that we have an excuse – nay, a duty – to once again curate the holiday wardrobes of our dreams. 
So, if you're setting your sights on a new journey, take the time to infuse your travel tales with a burst of vibrant style, courtesy of captivating new season CAMILLA resortwear. With the wonders of world calling out to us once again, what better way is there to dive into adventures than wrapped in luxurious silks, adorned with lively prints, and embellished with intricate details that celebrate the very soul of each breathtaking locale? Before you jet off on your next vacation, explore a mesmerizing world of CAMILLA luxury resortwear. Hold onto your bespoke printed sunhat,
as we whisk you off to new style horizons with the CAMILLA resortwear edit
and decode the art of destination dressing. 
The Romance of Luxury Resortwear
A luxurious international trip is the ideal time to embrace the romance of luxury resortwear. Take your inspiration from pop culture mainstays like White Lotus, but don't be afraid to step back in time and rediscover old world vacation dressing classics like Agatha Christie's Hercule Poirot and James Bond. 
 
 Sumptuous silk sundresses and printed kaftans become canvases of hand-painted wearable works of art, printed postcards that serve as a memento of travels far and wide. Adorned with exquisite details of lavishly lengthy ties, cascades of ruffles and tiers, resortwear dressing is made for decadent days that stretch out into blissfully balmy evenings. Dresses flaunting shimmering crystals are reminiscent of sparkling seascapes and shorelines that transport you to the heart of the world's most coveted destinations. From kaftans that float ethereally over matching swimwear to silk jumpsuits that seem to dance with every exploratory step, CAMILLA resortwear epitomises the enchanting art of romantic resort dressing.
Destination Dress Codes

Your wanderlust style is a magical conduit that bridges the gap between you and the places you're exploring. As you immerse yourself in new cultures, your outfit becomes a visual language, allowing you to fluently speak the essence of your free-spirited soul. Whether it's finding stillness in the tranquil beauty of a tropical paradise in a matching bikini and sarong, basking in the sunlit romance of the Mediterranean with a beautiful silk floral sundress, or moving to the vibrant pulse of a bustling city as you step out in a soft-tailored matching set. Expression with CAMILLA resortwear means you're not just dressing for the destination; you're weaving yourself into the very fabric of new surroundings and the makings of your most memorable experiences.
The Virtues of Versatility

Here's the secret sauce to holiday styling: select resortwear pieces that reflect the same versatility as your travel plans! Envision slipping into a maxi dress for a leisurely brunch and then, with the wave of a wand—or rather, a change of accessories—transform it into a captivating ensemble for an elegant evening out.  Mix and match separates, play with lengths and lightweight layering with the drape of a sheer silk shrug or silk kimono. A CAMILLA round neck kaftan is THE signature resortwear staple that can be worn a multitude of ways. Embrace this one resortwear rule and watch your suitcase skirt the weight limit and your style quotient skyrocket.
Chic Travel Companions

As you curate your very own resortwear reel, unlock a lavish landscape of accessories that make the perfect additions for a luxe holiday look. Statement jewellery to elevate the silk sundress that doubles as an elegant dinner date dress, a custom printed tote that keeps you organised as you step onboard to your next destination. A pair of iconic oversized sunglasses is an essential for all those sun-soaked days spent seaside or sailing into sunsets. With the CAMILLA collection of luxury accessories, you're in good company whether you're sharing the journey or flying solo.
So, fellow wanderlust woman, get ready to embrace main character energy as you embark on your next escapade. With elegance and vibrance converging at every crossroad, let the CAMILLA resortwear edit be your trusty guide in getting around in seamless style. Pack a personalised collection of luxury resortwear pieces to accompany you as you venture forth into writing new chapters and creating exciting new memories.